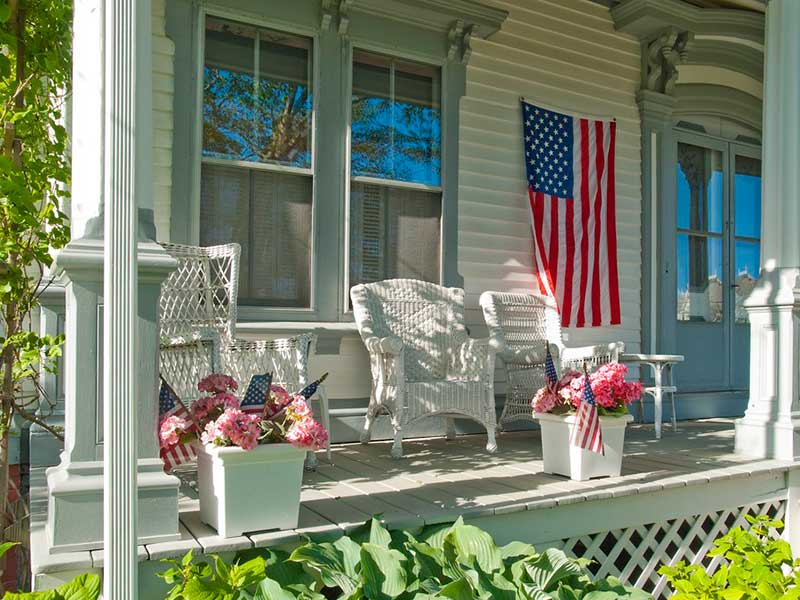 Americana decor incorporates American patriotism and marries it to a farmhouse or rustic look. There are three branches of Americana decor, but some styles may overlap.
Americana decor denotes a style that is casual and appealing. The materials are easy to care for, making them ideal for families. This style can be country farmhouse, primitive, or even patriotic, but is usually a combination of all three. Americana involves motifs like folk art, history, and geography adopted through the house.
Different Themes of Americana Decor
As discussed, Americana has different flavors of decor, and it often can incorporate all three elements into one design. Here, we discuss all three types of themes and how you can blend them into your home.
Farmhouse/Rustic Americana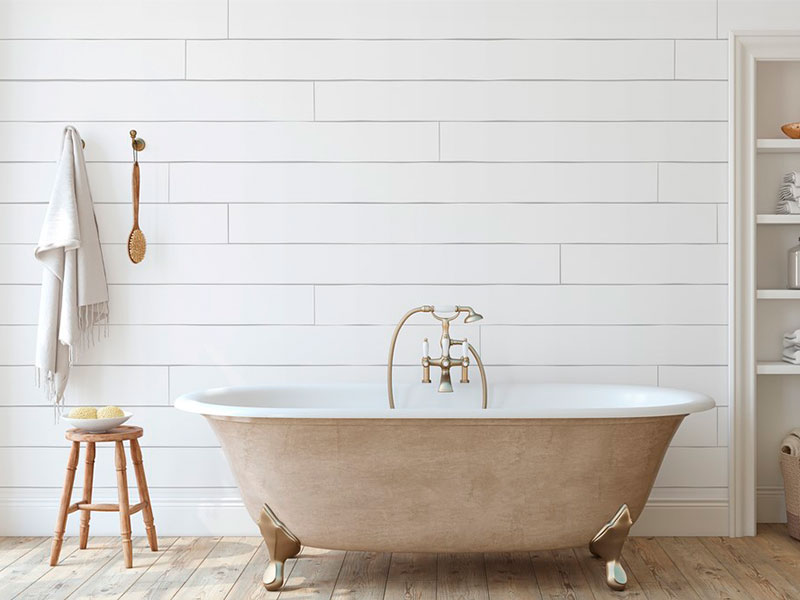 The country farmhouse decoration style spans decades and is the most widely used. Colors range from primary (red, blue, and yellow) to faded peaches. Style choices swing from kitschy to colonial or a mixture of both. Farmhouse styles will include:
In-kitchen dining area
A kitchen work table made of heavy metal
Natural flooring (wood, stone, clay tiles, or linoleum flooring)
Claw-foot tub
Iron bed
Eyelet lace
Vintage pottery and china
Chintz patterns
Overstuffed furniture
Kitchen wallpaper features vegetables, fruits, kitchen utensils, or poultry
Decor from the 1940s (colorful fruit fabrics)
50s-style kitchen appliances – most notably vintage red
Gingham and checked fabrics
The colors red and white
Some added accessories are farm-related, like large milk bottles/milk cans, wire egg baskets, metal signage, milk glass (green or white), or pig/cow/chicken/rooster decor.
The key features of this style are using natural colors combined with woodsy, warm furniture. If you want a more Southwest feel, incorporate hide rugs, wooden color palettes, and flag art into the decor.
To generate more country charm, involve scents in your room. Candles emitting a Southern magnolia or wisteria scent will add to the room's appeal and delight the senses.
Primitive (Traditional) Americana Decor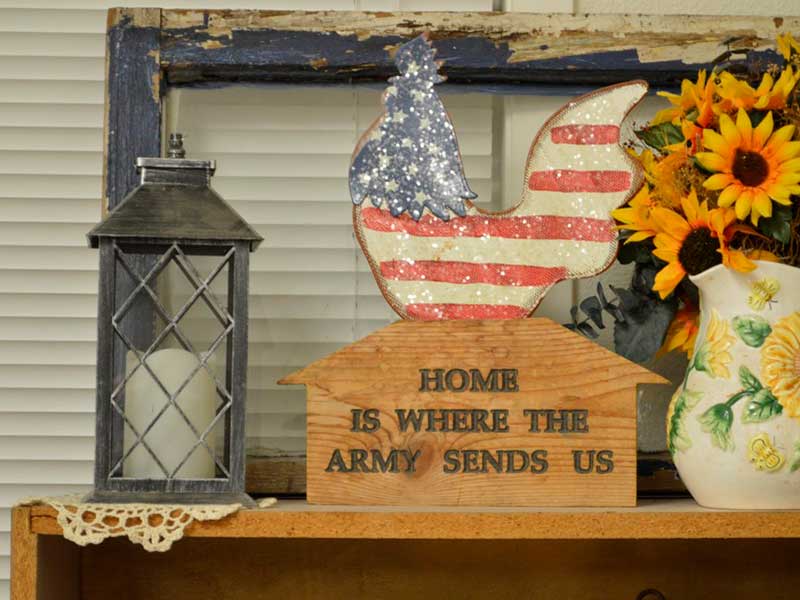 This style includes vintage advertising signs, tramp, and folk art. Mason jars filled with fresh flowers or dried flower arrangements in antique watering cans welcome visitors on a distressed table. Popular materials included fabrics resembling old burlap flour sacks and faded or checked patterns. Some styles include:
Dual-toned stoneware jugs (whiskey jugs)
Pumpkins, sunflowers, or gourds
Braided rugs/mats
Wooden kneading bowls
Spinning wheels
Balls of yarn
Red-ware
Patchwork
Twiggy furniture
Primary colors, or those that are faded and muddy
Baskets
The key to pulling off this style is in varying the textures. Worn metal and rusted items add character to a room. Burlap, homespun cotton, or other rough textures appear in curtains and pillows. Berber carpeting is often used for rooms due to its coarse, durable, farmhouse appearance.
In primitive rooms, handcrafted objects are placed strategically. Expect pottery, Shaker-style furniture, and cozy lanterns that add a nice, warm glow to the room. For organization, most people incorporate distressed-looking bookshelves.
White vintage accessories will give your space a bright feel. This style largely incorporates vintage art along with distressed textures.
Tip: You shouldn't do the red, white, and blue theme from floor to ceiling. Remain with one main American accent piece to prevent the feeling from being kitschy. Also, you can add tin ceiling tiles to create a more historical feel to the space.
Patriotic Style
When it comes to Americana, the patriotic theme is the easiest to recognize and most associated with this style of home decor. There are two distinct variations to it. These include:
Advertising plaques from World War I and II
1776 motif
Uncle Sam paraphernalia
Pictures or images of the Statue of Liberty
Stars and stripes/American flag
Red, white, and blue colors
Stars
This type of decor begins with a tan or beige wall. You can incorporate faded denim for a more vibrant or adventurous backdrop or add a stenciled border or wallpaper for more visual aesthetics.
Choose throw rugs in the colors of the American flag to draw attention to certain areas. You can add wrought iron items sparingly throughout the room and complement the decor with old quilts, vintage ads, antique tin soldiers, and checkerboards.
The second type of style in this category is the nautical theme. Since most of the Americana style centers around New England symbolism, these are the perfect features to incorporate:
Bottled ships
Lighthouses
Fishnets
Old lobster traps
Carved decoys or shorebirds
Fishing weights
Anchors
Lanterns
Shells
Some themes will add vintage maps to create that old-world feel. You can find them in magazines, antique bookstores, or antique shops. Framing old, worn, yellowed maps add a great wall accent to any room.
You can also incorporate handcrafts to add to an old desktop. Adding an old-world feel adds warmth and character to a home. Patriotic items in warmer months are great ways to celebrate the warm weather. They generate a carefree atmosphere reminiscent of vacationing.
Tip: To repurpose Fourth of July memorabilia, exchange plastic streamers for sophisticated items, like a flag garland.
Americana Living Room Decor
You can get this look by using red, white, and blue pillows. Throw pillows in this color scheme are great in summer as the home appears to be more in season. This look is also inexpensive but can update the room in an instant.
You can also layer striped blankets on a couch or chair. They are affordable, and their bold stripes reflect the American flag. Also, you can incorporate scenic American countryside wall art to enhance the motif.
Americana Bedrooms
You can create an Americana bedroom by hanging an American flag. It doesn't need to be an official flag as they are often not designed for indoor use. The best thing to use is a flag-imprinted metal for wall decor or a wood decor with painted stars and stripes.
Bedding can be the colors of the American flag to brighten up a room during summer and provide a patriotic appearance. You can also add history books on the Civil War, American Revolution, early colonial America, or even the Suffrage Movement to enhance the ambiance.
These are just a few ways to incorporate Americana decor into your living space. In a nutshell, this type of style reflects a patriotic love of the United States of America and can mix in the farmhouse and rustic elements to create a balanced look.