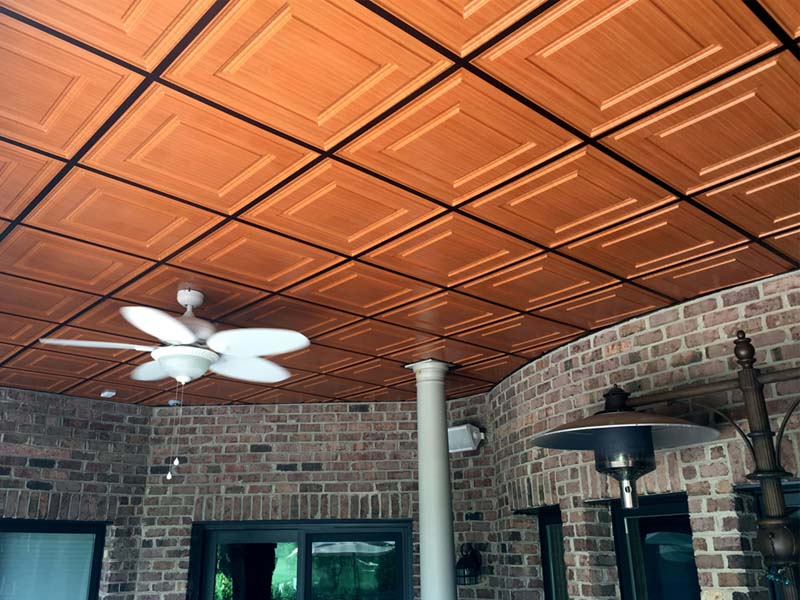 There are plenty of ceiling panel options to choose from. Selecting the right one depends on your taste or your home's decorative theme. Selecting the right ceiling panel also depends on the type of installation method you're planning to use too. Here, we'll look at the available options and analyze why each type of ceiling tile would be a worthy choice.
Planked Wood Ceiling
Wooden planks create a unique attractiveness. Solid wood's natural beauty – comprised of its grain patterns and color variations, among other attributes -will enhance your ceiling.
Additionally, the versatility of wooden planks allows you to install them with any type of decor, whether it's classic or modern. They'll give your room a cozy feeling and stylish look.
Wooden planks have grown in popularity for ceilings as they provide protection from the cold and overheating. They're also environmentally safe and durable.
Other pros include:
Aesthetic Appeal: Wood's visual appeal and its unique beauty, alongside the grain and rich texture, make it a project that's worth the time and investment.
Durability: High-quality wood will retain its original appearance for a long time, and if you maintain the planks, you'll have a ceiling that lasts.
Insulation advantages: This is perhaps one of the main reasons behind the popularity of wooden planks. Wood has excellent soundproofing properties and high thermal insulation qualities,meaning the temperature in the room can be easily sustained.
However, there's no perfect finishing material, and wood is no exception. It's susceptible to water damage, and it can warp, crack, and rot. Wood also requires a lot of special treatment so that it can remain in good condition.
Furthermore, a wooden ceiling can attract a lot of pests, and it isn't great for when a fire breaks out. To fight these elements, it's best to purchase treatment with special protective products.
PVC Ceiling Panels
PVC ceiling panels are an increasingly popular component of ceilings around the country, whether in commercial or residential buildings. This plastic, strong, and lightweight material is factory-produced into panels of different designs, colors, lengths, and sizes. Each ceiling panel contains a hollow core and a shiny, smooth surface.
One advantage PVC has over wood is that it's waterproof. This also makes PVC a viable option over conventional mineral fibers like pop and gypsum.
Further pros of PVC paneling include:
Durability: PVC ceiling panels last for years without warping or bending. They're also less likely to be damaged during the installation process.
Affordability: They're more affordable than other paneling materials on the market.
Clean Installation: Installing PVC ceiling panels is straightforward, as the panels can easily be trimmed and cut. Moreover, they don't create a lot of dust. When it comes to installation, they are simple enough that a glue up method is always ideal.
Lightweight: PVC happens to be the lightest paneling material available. This makes them very easy to transport, handle, and install.
Easy to Maintain: PVC panels don't require any varnish, paint, or special coating. They only need to be cleaned with a quick wipe and damp cloth on several occasions each year.
Waterproof: These ceiling panels are waterproof, allowing them to remain damp-free and preventing the growth of mold or mildew.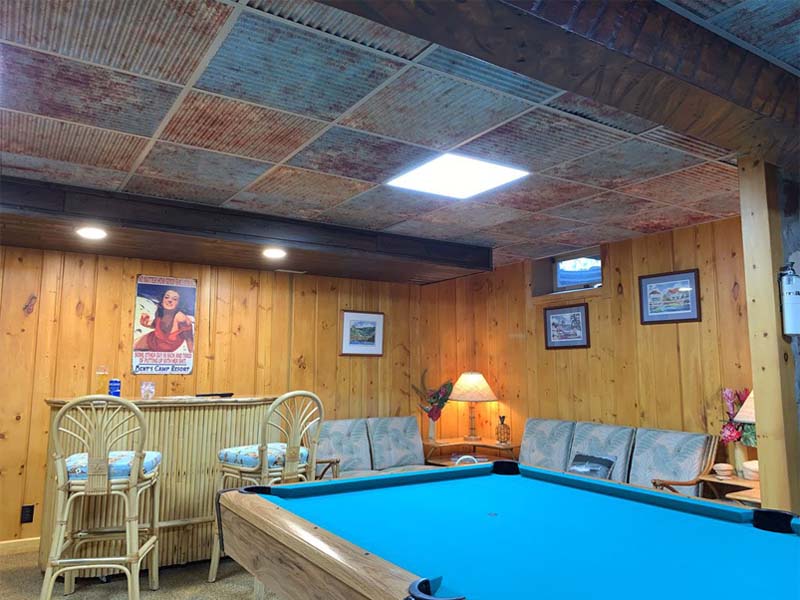 Now, here are the cons of PVC panels:
Plastic Look: PVC panels won't make your room look warm and cozy. You're better off with wooden planks if you prioritize aesthetics over function.
Not Heat-resistant: These plastic panels may get damaged when placed near heating fixtures. That's why it's recommended to choose energy-efficient LED light bulbs overheat-emitting bulbs if you're ceiling is comprised of PVC panels.
Breath ability: PVC, which contains chloride, isn't a breathable material. It doesn't allow air to circulate freely and pass through the ceiling.
There are a lot of reasons why you should opt for PVC panels for your ceiling. However, consider the cons because they can involve you and your family's well-being if you don't take them seriously. But as long as you spend time weighing this option, you'll soon have a great-looking paneled ceiling.
If you don't have a preference between plain or tiled ceilings, seriously consider panels. They tend to form a unique and beautiful environment. However, always weigh your options and consider which material is well-suited for your home.