A kitchen backsplash is a kitchen counter finish that runs on the area between kitchen counter tops to the top cabinets. It is an amazing kitchen addition that showcases your personal touch and taste. The best part? A kitchen backsplash does not allow substances thrown at it to pass through. That way it becomes quite effective in maintaining your kitchen walls clean by offering protection from grease marks, food spills and water.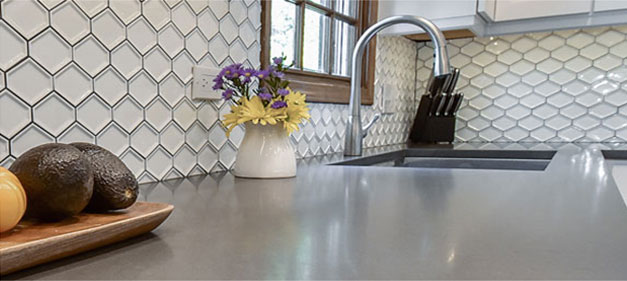 The backsplash has been considered an integral part of the kitchen working area modification. Apart from its protective feature, it compliments that general appearance on the countertops blending with the home owner's individual taste. The common backsplashes in the recent past have been characterized by simple designs of fruits and vegetable designs. This has however undergone changes in that in the modern day, home owners have the luxury of choosing from different material as they please. The common materials used to make kitchen backsplashes are; Glass panels, Stone slabs, Wood, metal, porcelain, exposed brick and ceramic. There is artistic blend of both ancient and contemporary art work which incorporates individual touches.
---
Trends that should gain momentum in the year 2018
1. Ceiling length
In the year 2018, most home owners will be expected to do away with closed cabinets changing to open shelves. Ceiling height backsplashes highlights a larger area of the kitchen. This will give a refreshed and modern feel by bringing out the details of a specific point in the room. Since it highlights a larger area, it will bring the attention to the new brightness. The change to open cabinets on the other hand will create openness adding the surface area.
2. Large Tiles (Subway Tiles)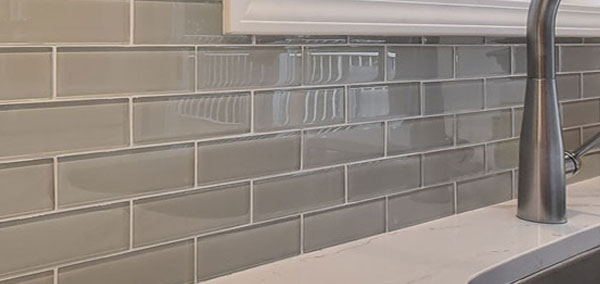 With the ever increasing love for subway tiles manufacturers are now moving from 3'*6* to larger sizes. The subway bricks have maintained their aesthetic status in the decor space; they have proved to be indispensable.
Large tiles create the impression of space. They are therefore best suit for small kitchens since they give a different feel of larger space and continuity. This effect will be best achieved when the backsplash is extended to the ceiling.
3. Mirrored and Metallic Finishes
These exquisite types of finishing are expected to rise in 2018 with the possibility of home makers seeking shy but unique styles to raise their bar on kitchen backsplash. The mirror top gives a spending shiny finishing, a glossy surface which highlights best under the rays of the sun. The mirror and metallic finishes will reward your effort under natural light during the day and give a glamour shine during the night.
4. Mixture of patterns

Upcoming backsplash trends have raised the bar quite high as each expert will infuse a mixture of patterns to bring out the most desired piece of work. These patterns will include Moroccan fish scale, chevron, herringbone and laser among many. We expect classic graphic print and large patterns in statement colors, giving live to any home space. Creating your designs ahead of time will ensure that your work remains relevant in these fast changing trends.
5. Aged versus new patterns
There is a trick in achieving endless design options. A look of an old backslash will be easily achieved by applying a weathered topping. For a fade or washed out look use acid washed tiles for the finish. To achieve a look that blends with nature, look for tiles with natural appearance. To create an ancient look, get tumbled tiles whose designs resemble natural stones or honed matte tiles; they will give you a vintage look. With these, you have the freedom to choose your style whether rustic, country, aged and weathered, reflective and glossy.
6. Multiple colors
Neutral colors have dominated kitchen backsplashes. The trends will embrace change as most home owners will experiment with different colors. This will be the best opportunity to showcase your personal style and make your home feel more personal.
The choice of colors will achieve different effects such as black for luxury, ole white for fresh air, blue for that homely feeling and yellow for energy. If you feel more daring, use a combination or a crash of colours as you desire.
7. Marble Slabs
Tile has dominated the making of backsplash for a long time; this is about to change. Slabs will join the league as a main design. This is a different concept created form a continuous piece with just a few breaks. Instead of many small tiles being mapped together to make a backsplash, a large slab covering the entire space will be used.
Another aspect that will attract people to this design is the shyness of colour and deviation from excess shine; this has a touch of class and subtle beauty.
8. Other Materials
There is beauty in being unique; not conforming to contemporary trends. This aspect will see to creation of new creative designs as the competition rises. Upcoming designs with bring to play other materials like metal, stainless steel, aluminum,Copper, zinc and perforated material. It is possible to even create your backsplash from the uncommon material. Why not try wood cladding, beadboard, shiplapor wainscoting and elevate your taste? This is very creative and artistic but will require the right choice of wood to avoid damage. It is also paramount to ensure that the wood has a protective finish.
Conclusion
The enlisted trends will equip you with the knowledge of what to expect and where the market trends will be heading. You now have the power to choose where your creativity lies. Irrespective of the designs you go for, the intricate details will position you in the right space. Backsplashes are an essential to each household. The beauty of variety is that everyone has that which blends with their taste. Won't you choose yours today?