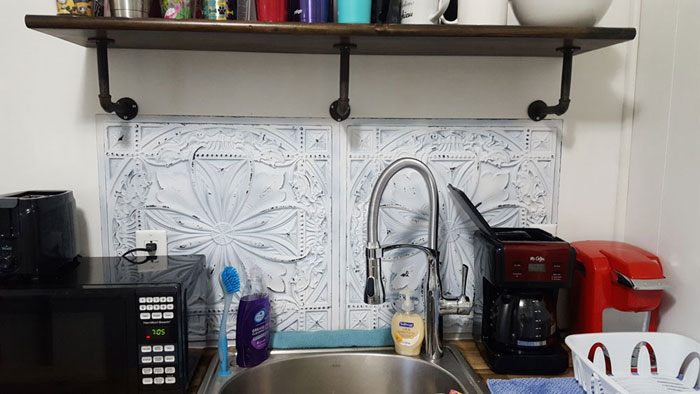 Ready to give your home a makeover with unique materials that will make your home stand out? Unsure of where to start? No problem! There are some easy and beautiful ways to use tin backsplash tiles in your home right now. You don't have to spend a great deal of money to make statements in your home. Whether you opt for faux tin tiles or real metal, all you need is a pair of tin snips and some creativity and you are good to go!
Other than being used as a tile backsplash, the tin tile can also be used with great success for ceilings and walls. They bring a shine to any space and life to areas once forgotten. Now, you can spruce up those areas in your home that have needed a little love without doing too much remodeling and spending too much money.
Here are the top ten most interesting and unique ideas you can use in your home to bring tin backsplash tiles to the forefront of your interior design.
Above a Kitchen Island
If you have an island in your kitchen or a stand-alone range, using tin backsplash tiles as tin ceiling tiles right above can effortlessly create a finished look. Tin backsplash tiles can bring brightness to your kitchen. Instead of leaving the island or stand-alone range out in the open, you can tie everything together with unique tin backsplash tiles on the ceiling!
Kitchen Backsplash
The kitchen can be a messy place with food splatters. That's why having a kitchen tin backsplash is such a great way to preserve the kitchen walls. Tin backsplash tiles are a great way to keep the walls clean while also bring style and class to the space at the same time. You can easily wipe the tin backsplash tiles, and they will hold up through the toughest times.
Bathroom Pedestal Sink
Bathrooms are unique spaces. Some have vanities with sinks while others have pedestal sinks that stand alone. If you have a pedestal sink, you may want it to look like a part of your bathroom rather than a stand-alone feature. That's where tin backsplash tiles can help. These tin tiles can create a unified space that will bring the pedestal sink to full attention.
Entryways
Does your home have a large space in the entryway that needs some extra attention? Tin backsplash tiles can give it just the look you're searching for. You could use hammered tin tiles, smooth tin tiles, or decorative tin tiles to give the space a boost. Try using the backsplash tiles on one wall or in a decorative pattern to find what works for your style. They are also durable, which means those muddy shoes or little fingerprints will be easy to wipe off.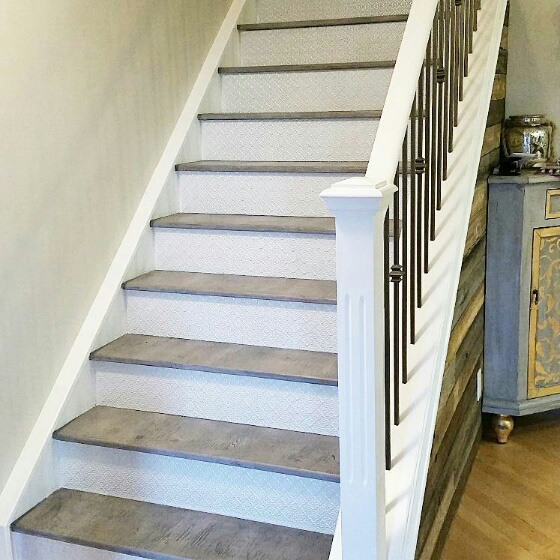 Focal Point of Any Room
Large spaces are hard to bring together with cohesion. One way to do that is by creating a focal point wall that serves as the centerpiece for the attention. Eyes will be drawn to that one wall and give the space the pulled together look that you have been desiring. Bedrooms, living rooms, or dining rooms are great places for tin backsplash panels to create that focal point. There are decorative tiles, different colored tiles, and other options that can bring you the attention in all the right ways. Check out some of the options here → https://www.decorativeceilingtiles.net/tin-backsplash-tiles/
Cabinet Door Inlays
Is your kitchen craving a makeover but the expense of doing so is a bit too much? You can start by adding tin backsplash tiles to the panel inlays on your cabinet doors. With various color options to choose from as well as many different decorative styles, adding tin inlays can give your kitchen just the pop your kitchen needs. The nice thing about doing this is that they aren't difficult to install and can easily be cleaned. With durability, style, and function, tin backsplash tiles are great for adding a fun pop to any cabinet.
Breakfast Bars
You might spend a lot of time in your kitchen cooking meals for your family. That makes it even more of a place to invest your interior decoration efforts. If you have a breakfast bar that is the center of your kitchen, you could add tin backsplash tiles to the bottom part to give it a unique look. The bar will look like a one-of-a-kind piece of furniture rather than a typical breakfast bar put in by hundreds of home manufacturers. They are easily dented, though, so keep this in mind if you have smaller children. The good news is they are easy to clean, so little messes can be cleaned off withoutany fuss.
Pantry Shelving
One place you might not have considered giving tin backsplash tiles a chance is your pantry. Some pantries are open-faced, leaving much of the insides exposed to the rest of the kitchen. Even if that's not the case, the pantry could still use a bit of a facelift. One easy way to do this is by adding tin backsplash tiles to the back of the shelves. While it's just food occupying the space, you will be happy every time you walk in the room to grab your essentials. You could also add them to the shelves themselves. This would make cleanups easy so as to not ruin the wood shelves.
Ceilings
Many people hear tin backsplash tiles and forget that they can be used on the ceilings, too. Add tin backsplash tiles to the ceiling can create depth, interest, and style to any space. Larger rooms could benefit from tin backsplash tiles to bring the atmosphere in towards the center a bit more. Smaller spaces could use lighter colored tin backsplash tiles to give them a brighter feeling. Tin backsplash tiles are versatile and stylish for any ceiling.
No matter how you choose to use tin backsplash tiles in your home, the message is clear: they are winners! A tin backsplash can transform any space, no matter how the tiles are used. With the help of tin backsplashes, you can makeover any room from top to bottom. Looking for materials? Head over here to get some ideas → https://www.decorativeceilingtiles.net/tin-backsplash-tiles/