If you're looking to give your home some extra flair, investing in tin ceiling tiles is one way to go about it. By opting for this design, you'll have a choice of various materials and installation systems. Furthermore, you could either purchase authentic tin tiles or choose faux tin tiles as a cheaper alternative. Either way, installing these will give your home that look of vintage charm.
---
Here is a guide on why tin ceiling tiles are a worthy option for your decorative inspiration.
Types of Installations
As mentioned, there are different installation types that you could use with tin ceiling tiles. These are:
Drop in Suspension
In short, a drop in suspension is designed for the panels to be placed flush with the grid. The grid is based on the ceiling and the tiles are dropped into the suspension grid. Usually, the grids and the tiles are painted the same color. By doing this, it becomes a part of the aesthetical design.
Glue Up
This installation system is perhaps the easiest and the most used among decorators. It's a method that is popular if you have chosen to go with faux tin tiles. With this, you simply glue the faux tin tiles (after laminating them) over your ceiling. It doesn't matter if you have the traditional smooth ceiling or a popcorn ceiling, as this method works on both. Glue the tiles to the ceiling and end up with an effective transformation in no time.
SnapLock
This paneling system was specifically designed for the DIY homeowners. What this system includes is an embossed metal panel. What you do is screw directly into any ceiling material. If you have the correct screws, then you'll be able to do this over an existing ceiling.
Nail Up
Typically, the nail up system is installed with a six-inch overlapping seam. To do this in the most effective way, use a brad gun so that you place 18-gauge nails all around the tiles.
---
Types of Tin Ceilings and Finishes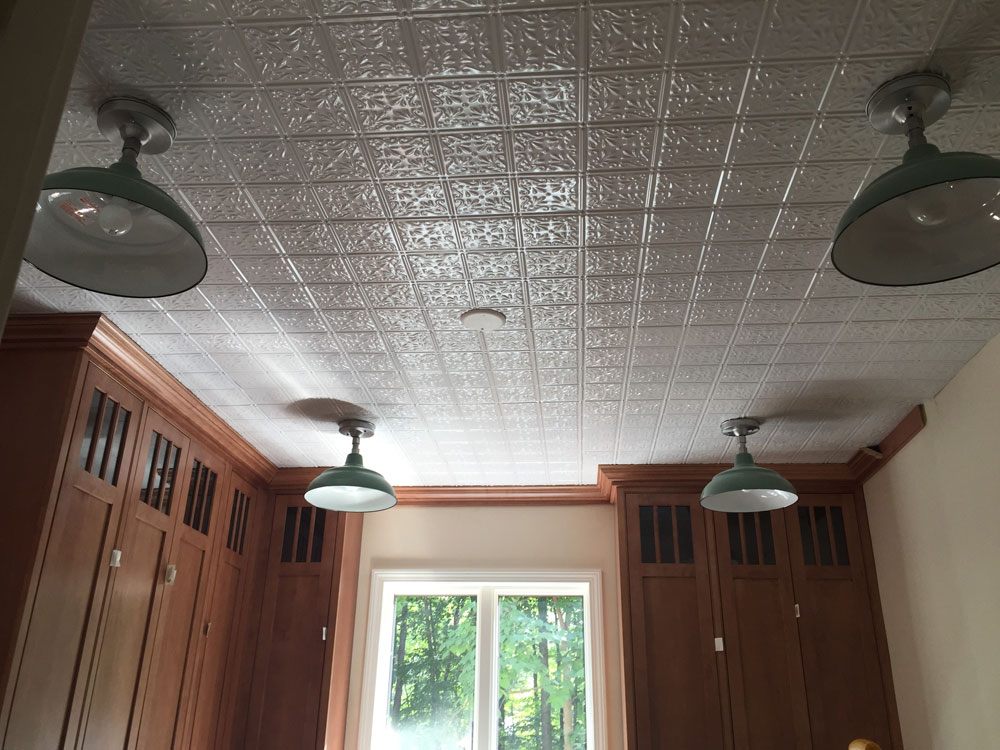 When it comes to tin ceiling tiles there are various finishes you can choose from. It doesn't matter which finish you decide to go with, they all end up giving your décor a distinctive look.
Authentic tin tiles: With these, you can pick out many ceiling tiles that are available in different colors and patterns. However, if you have a low budget, then this design may not be the way to go – as the overall cost for this installation is rather expensive compared to other material designs. Despite the cost, your money would be well spent as the completed finish would amaze you. Authentic tin tiles are a great way to create a sensational space with a historical ambience.
Copper: This material remains a common choice for tin ceiling tiles, especially for kitchens. What a copper ceiling creates is added depth and charm, so consider this option for your office or den.
Out of all the metal tiles available on the market, copper happens to be the most expensive. If your budget isn't too low, then seriously consider this option as the result will be worth the fund. If you prefer to keep the original copper look, you'll need to seal the metal – unless you buy the metal pre-sealed.
---
Why go for Tin Ceiling Tiles?
Tin ceilings are an option to make your home look beautiful. Your home will receive such a remarkable transformation, it will instantly become a conversation starter whenever you have guests come by.
When tin ceiling tiles became a more common option for homeowners, they were considered as a more practical choice based on the fact they don't crack, and they offer protection against rodents, dust, insects, and fire. What they also offer is an opportunity for a unique pattern. These are the aspects in which helped tin ceiling tiles become one of the most popular ceiling tile options on the market.
Once homeowners realized the value in tin ceiling tiles, they became a strong candidate for their ceiling tiles. Not only are they cheaper than plaster, the installation process comes a lot easier, too. With plastering, more often than not people tend to have a professional install the ceiling for them. When it comes to tin ceiling tiles, most cases involve the homeowner being the one to complete the installation.
Typically, decorators see tin ceiling tiles as a suitable option because their appearance is stunning. Whether or not you want the tiles to be painted, you'll still end up with an elegant surrounding wherever you decide to place them. Moreover, they can be installed left bare, powder coated, brushed, or polished. Another benefit is that these tiles can come in different shapes to provide various aesthetics.
---
How to Paint Tin Ceiling Tiles?
If you purchase unfinished tiles, it's best to treat them before coating them over with paint. What this does is boost the durability of them. To achieve this, use an oil-based primer which is suitable for paint. Furthermore, choose one with a rust inhibitor to prevent corrosion.
If you wish to leave the tiles silver but add a clear coat to seal them, go with an oil-based polyurethane that's suitable for metal. With this, you have the option to apply a powder finish yourself.
As mentioned, if you don't have a small budget limiting your creativity, deciding to go with tin ceiling tiles is a fantastic option for you and your home. Your stylistic choices will be endless, and with the right tin ceiling tile, you could have the perfect match for your home's décor.
By having one of the easiest installation processes, tin ceiling tiles will always be a project that's easy to handle. So, if you're a beginner DIYer, and you are looking to fit the ceiling yourself, this may be the best option for you.