Posted by Milan Jara on 13th May 2020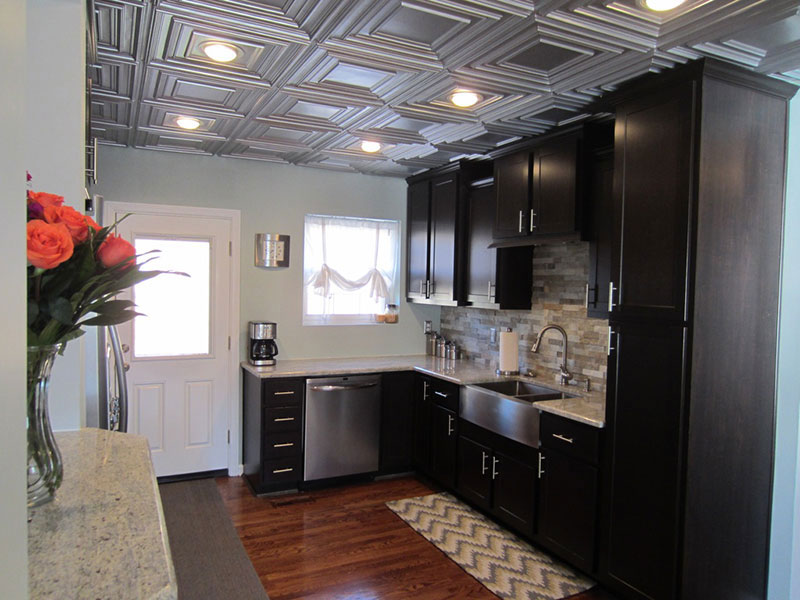 A suspended ceiling, also known as a drop ceiling, consists of panels or tiles that hang several inches below the main structural ceiling. It has become a popular ceiling design, especially within commercial properties as they provide a useful space for concealing unsightly wires and installations that otherwise would alter the interior appearance of the building.
If you're looking for ideas to create a great looking suspended ceiling tiles, this guide will provide you with the information so that you can make a logical decision for your home or office.
---
Suspended Ceiling Tiles
There are many tiles available and they come in all different designs, colors, and materials. With this vast amount of options, it's easy to suggest that there'll be something for everyone when it comes to changing the interior appearance of a home.
Typically, crop ceiling tiles are manufactured from materials such as plasterboard, mineral fiber, metal, and planks and are often perforated to provide specific levels of acoustic absorption that can be used to control noises in spaces below.
Here is a collection of some of our best tile that can help create a high-quality suspended ceiling for your room at home:
---
Faux Tin:
By using faux tin ceiling tile, you will have an option that allows you to complete the project hassle-free. Going with this material is extremely ideal for novices, so if you don't have much experience with DIY, then this may be the right choice for you. When you see the faux tin ceiling tile, there's a possibility of you thinking that they look like solid metal. However, this will be fooling you, as these tiles are made of strong, durable PVC that's ideally lightweight.
If you're worried about the echo effect that these tiles may generate, as there is a misconception that all metal tiles result in this, then worry no further. Our faux tin tiles do not give you this problem.
If you're also looking for tiles while being on a budget, you'll be glad to know that our faux tin collection are affordable and features a Class A fire rating. With this, we hope to give you the upmost safety and feeling of security while living in your home.
What Kinds of Faux Tin Tiles are on Offer?
When it comes to faux tin tiles, there are a countless number of patterns and designs that you may want for your room. They all come with styles and finishes that will accompany any interior design you have or desire. Some of our popular choices are:
As mentioned, these are the more popular choices our customers consider when looking for the perfect faux tin tile for their home. Though remember, you don't have to follow the crowd. There are many other styles within our faux tin collection that may be better suited for your décor at home. Browse our collection to find the best possible match for you.
---
Aluminium:
These pre-finished decorative ceiling tiles come in a variety of patterns and styles for you to choose from, and they come in a range of colors too.
What makes aluminium tiles ideal is that they're elegant and versatile, and they accompany both cool and warm tones – which gives you many available options when deciding on the right set.
What Kinds of Aluminium Tiles are on Offer?
If you're set on purchasing aluminium ceiling tiles, there are many designs to consider. But, like anything, some of the drop ceiling tiles are more popular than others. These are the more popular designs among our collection:
Aluminium ceiling tiles tend to be more popular among commercial buildings, but many homeowners are starting to use these tiles for their homes. A reason for this is that they are considered to be practical, as the nonporous material does not soak up stains.
Our aluminium ceiling tile designs are well-detailed and have the ability to become the focal point to any room. This option is a worthy candidate for a suspended ceiling tile.
---
Copper:
Copper ceiling tiles are another excellent choice to have on a suspended ceiling. A lot of the tiles come with beading, scrollwork, and all other decorative flourishes that have the ability to become a focal point for your room.
The natural color of copper adds a refined flair that receives attention within an instance. It also enhances most decorating schemes with its warm undertones.
What Kinds of Copper Ceiling Tiles are on Offer?
Our copper ceiling tile collection comes with many patterns and textures that may suit your home's décor. Here are some popular choices among our customers:
Copper ceiling tiles are a magnificent way to flair up your suspended or drop ceiling, hence why it's a popular choice among decorators today. However, people don't just buy them for their looks, they also boast many other benefits you can take advantage of. For instance, they are environmentally friendly as they are able to withstand heavy precipitation and lightning well. With this, you can imagine that they protect your home from damaging environmental factors
Another benefit relates to their physical feature, with their burnished gold color being an eye-catching display for your room. Their rustic exterior is enough to catch your attention, so this will be a nice way to introduce your guests to a well-designed room with a stunning suspended ceiling.
Browse through our copper ceiling tiles and pick out a design that matches your room's décor. We have plenty of options available, so you're almost guaranteed to find something you love.
---
Other Information
You can find the materials for a suspended ceiling at almost any home improvement store, but in most cases, you must purchase the tiles separately from the ceiling grid kit. The grid kit contains all of the brackets and runners that you need to hold the ceiling tiles in place, and then the tiles will slide directly into place without any further complicated construction.