Decorating your home can be full of difficult decisions, especially when it comes to the age-old debate of wallpaper vs. paint. While many of us prefer wallpaper for its endless array of possible designs, color combinations, and textures, wallpaper has many drawbacks, such as being incredibly difficult to put up and align correctly, it can peel off or bubble, and, once it's up, you can't change the color of it to blend in with new furniture without wallpapering a brand new design from scratch.
Wallpapering is by far one of the most disliked DIY tasks for many homeowners and we sympathize entirely. In fact, more and more interior designers are turning to alternative wall decoration to make the most of their latest interior design creation. That's why at decorativeceilingtiles.net, we offer a wide range of solutions to add style and substance to your home and liven up your walls while staying well away from wallpaper altogether. Our range of 3D decorative wall panels are the answer to your prayers and are bound to revolutionize the decorating possibilities throughout your home.
Our 3D decorative wall panels are available in a wide range of materials, including MirroFlex Wall Panels, Faux Leather Panels, and 3D Bamboo Panels. Each of these options provides a different aesthetic and effect on the room and can be used to create a different look and feel in a wide range of designs. Below, we look at some of our most popular 3D decorative wall paneling and give inspiration on how to transform your home and work wonders on your walls.
---
MirroFlex Wall Panels
What's great about MirroFlex Wall Panels is that on first sight, it might seem that your walls are adorned with high-quality wallpaper. These lightweight PVC faux tin panels are molded into subtle, stylish designs that easily slot into place and build up a beautiful pattern across your walls. Unlike wallpaper, however, these are much easier to put into place and will never age or deteriorate, thanks to their high-quality construction.
With MirroFlex 3D decorative wall paneling, you can repaint the surface as many times as you like, keeping the same pattern but adapting it as your home and your style changes. This means that you no longer have to worry about tearing down layer upon layer of wallpaper as you redecorate. Here are some of our top textured wall panels to breathe life into your home in an instant.
We love the traditional design of this modern wall panel.The nettle pattern gives off a stunning William Morris style effect while the MirroFlex material brings it into the 21st century and makes it suitable for the modern homeowner. A classic and timeless floral design will lend itself well to any changes in your home over the years and can be repainted in a wide range of colors, from creams and pastels, through to bright bold palettes to really show off your walls in all their glory.

The simplicity of this design goes hand in hand with its versatility. Tile effects have been popular in homes for decades and there's a good reason for that. Using light, neutral colors on a design like this will give your home a light, yet cozy and rustic feel and give the impression that your home has real tiled walls. On the other hand, the tile effect works equally well with bold colors such as emerald green and ruby red to give an elegant and exclusive feel which will immediately add a sense of grandeur to any room.
---
Faux Leather Panels
We love faux leather panels for many reasons but one of their best features is the way they can soften a room while adding depth, style, and sophistication at the same time. If you crave a comfortable, relaxing space to come home to or even to work in, then you will be amazed at the effect that faux leather 3D decorative wall panels can have.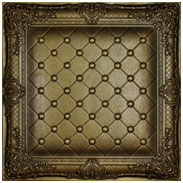 If you're searching for luxury, then look no further. This soft, inviting, and decadent design looks as if it has been plucked straight out of a manor house and is the epitome of opulence. If you're looking to upgrade your study or bedroom or even create your very own library, then this is the wall tile for you. Whether you choose to use it as a feature wall for a headboard or want to cover all four walls, the end result will be a stunning and you'll be a faux leather wall panel convert for life.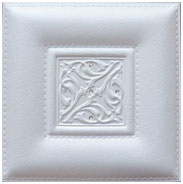 If you love the idea of a faux leather tile but are after something lighter andsubtler for your walls, then this white design is a brilliant option. This soft textured tile adds an instant feel of comfort while the light color keeps your room's natural brightness and makes the space feel larger. This design could be used in almost any room of the house, from the living room to the dining room to the bedroom and even the bathroom.
---
3D Bamboo Panels
3D bamboo panels are a highly popular product as they offer strong, stylish patterns, yet are light-weight, durable, and can be repainted over and over again. The different textures and patterns available offer something for every home and provide a modern alternative to patterned wallpaper.
Made from bamboo pulp, these tiles are hard-wearing and the seamless patterns flow endlessly around the room—no matter how many walls you decide to cover.
This curved design is great for modern homes but is also versatile and easily incorporated into lots of different settings. The continual flow of the horizontal lines will draw your eye around the room and add the illusion of more space while adding a fun and interesting dynamic to your home's décor. Light paint colors would work best to emphasize the soft flow of this design and to add to the spacious feel.
Geometric patterns have stood the test of time, yet have never been more invogue than they are this decade. This fun, retro design gives your walls a modern lift while incorporating this much-loved pattern from years gone by. To add a playful and fun feel to your home, why not try bright oranges, reds, or yellows to highlight this vibrant pattern?
With so many different types of 3D decorative wall panels available and an endless choice of patterns, there really is no need to ever have to battle with wallpaper paste again. Our full range of high-quality products is available to view at decorativeceilingtiles.net.