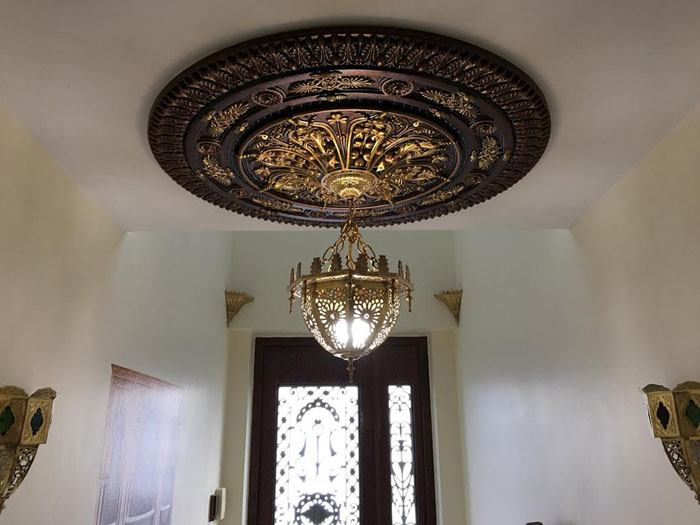 Where you put the medallion plays a major role in how it will look in a space. If you are installing a medallion over an existing fixture you have limited choices – you're putting it wherever the fixture is already located.
But if you're designing a room from scratch you have more control over where the ceiling medallion will go. Most people assume ceiling medallions have to go to the center of the room but this isn't always the case. In larger rooms, you can place a light fixture and a medallion at each corner of the room. Keep your molding choices in mind if you go this route because it might be too crowded if you also have ornamental molding in the corners.
It's also possible to do a multi-fixture arrangement in a horizontal line down a larger ceiling. This looks great in rooms with rectangular dimensions and fits especially well in a dining room that's with a large, stately table in the center of it.
There's no rule against being creative. The average homeowner will put a single medallion and a single fixture in the center of the room but this doesn't mean you need to follow that design option if you don't want to.
---
Material
Nowadays, most ceiling medallions are made from coated foam which is lightweight and easy to install but you can also get medallions made of wood or metal. While they do cost more and can be more difficult to work with, they are durable and tend to give a room a more polished, rich look.
When choosing the material for your medallion, look for something that's easy to install and meets your overall design aesthetic. An ornate, wooden medallion might look silly in a home that is of average value and it would be considered an over-improvement. On the other hand, a standard foam medallion would stick out in a higher-end home and look as though the same care and attention weren't paid to the ceiling as it was to other features in the house.
The bottom line? The material used to make your ceiling medallion should be a blend of form and function in your space.
---
Finish of the Medallion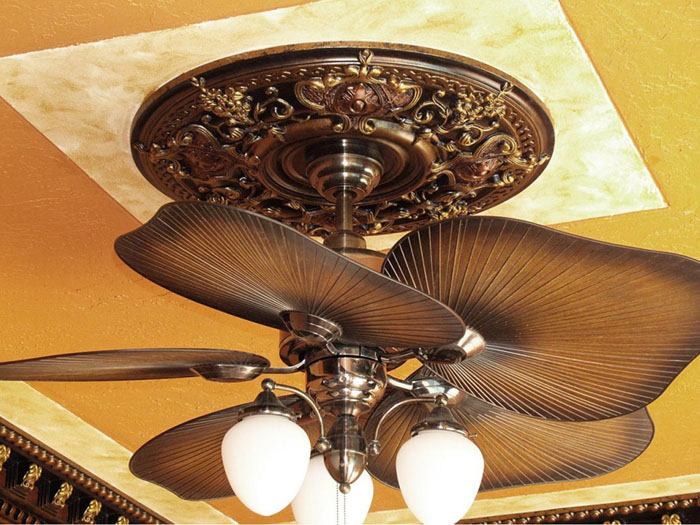 Medallions are typically sold in flat white or unfinished wood textures. This means you are given a blank canvas to do with whatever you choose. If your ceiling is white or wood or you prefer the contrast of these original finishes (or non-finishes!) feel free to leave your medallion the way it came.
But there is plenty you can do to liven your medallion up and create a focal point on your ceiling.
Ceiling medallions look great when they are painted to match the ceiling exactly or when they are made to stand out. You can apply a faux finish of metal in copper or stainless steel on a medallion. You can stain it to have a rich wood texture. You can choose a contrasting paint color or paint it to match the fixture to make the fixture appear larger and stand out.
The goal is to create a look that you love. There are no rules when it comes to finishing ceiling medallions.
---
Installing a Ceiling Medallion
Installing ceiling medallions can be a DIY project, even for beginners, but there are a few things you should know about the installation process before you take it on. If you are DIYing your new ceiling medallion, you'll need:
Medallion
Paint (optional)
Ladder
Drill
Countersink bit
Circuit tester
Screws
Adhesive and paintable latex caulking
Wood filler
Some medallions are sold as kits so some of the items you need for installation are included with the medallion.
If you're installing a medallion at the same time as a new lighting fixture:
Turn off the power
Do a test assembly of the medallion and chandelier or fixture on another surface so you'll have some idea how it all goes together once you're on the ladder
Enlarge your ceiling hold if necessary
Use a countersink bit to drill holes in the medallion.
Thread the chain and wiring through the hole in the center of the medallion. Nothing should be between the medallion and the ceiling.
Place the medallion where you want it and check out it looks from the ground (this is a two-person job)
Make sure the medallion's decorative side down and apply adhesive caulk to the back
Attach it to the ceiling
It will take about two hours for the adhesive to finish drying
Reattach wiring and secure with nuts.
Screw in the medallion without over-tightening the screws.
Caulk the perimeter of the medallion to cover gaps between it and the ceiling
Paint the medallion after the glue is dry (option)
Install the fixture
Fill any screw holes with wood filler
Restore electricity
If you're installing ceiling medallions over an existing fixture:
Turn off power
Remove the fixture and lower the canopy. Disconnect the wires and clean and polish the fixture.
Install the medallion as directed above
Reinstall the lighting fixture
Fill any screw holes with wood filler
Restore power
Installing ceiling medallions is considered an easier DIY project, but this doesn't mean it's right for everyone. Some homeowners just aren't comfortable dealing with electrical projects in their home and that's okay. Others prefer not to climb on ladders and still others are on their own and don't have someone to guide their placement and assist them.
The truth is, some things are better left to professionals. Regardless of whether you want to install the medallion yourself or you're hiring someone to do it for you, choosing the right medallion is an important part of being happy with the result.
Ceiling medallions are a simple and affordable way to add a big design impact to a room. Painting the medallion makes it stand out even more. If you're looking for something subtle to add a more finished look to a space, a ceiling medallion can help you accomplish that, as well.