Posted by Milan Jara on 17th May 2019
Who said that office spaces had to be boring? The thing about offices is that they are not typically equated with words like "fun" and "exciting." It is a space that is more synonymous with words like "boring" and "stuffy." Luckily, the world of design has found a way to bring life to any office space! Introducing decorative wall paneling. This wall art is a unique, innovative way to ditch the paint and bring excitement to the workplace.
---
What Are Decorative Wall Panels?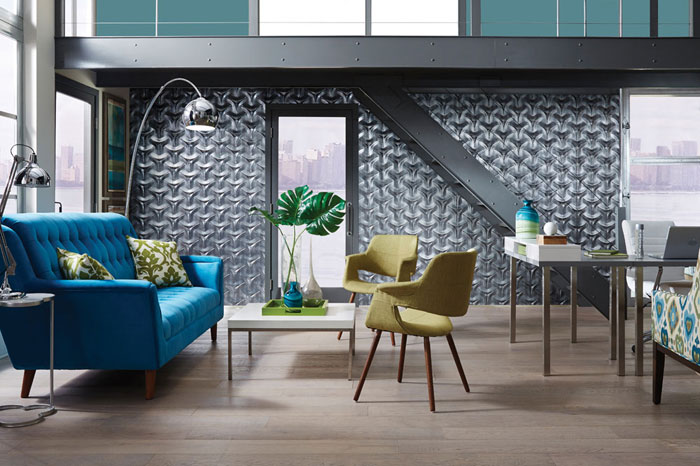 Like with the ceiling, when we think of wall decor, we don't typically think of panels. Why? Because the 1970s ruined even the thought of paneling for a lot of people! Wood paneling was a hot trend during the '70s. However, decorative wall paneling has come so far since those wood-loving (or loathing) years. In fact, wall panels are now made from a variety of materials, in more colors than you can count, and in shapes and sizesthat you never imagined.
These options leave the world of wall design open to many different interpretations. It is good to have options, especially options that are aesthetically pleasing.
Faux leather, bamboo, and PVC/faux tin are three of the most popular materials decorative wall panels are made of. The nice thing about these materials is that they are relatively easy on the wallet. With faux materials, you get the same look as the real material but for much less money. This is great for walls that need large surface areas covered!
---
Oh, the Places You Can Decorate!
No one said that decorating an office was easy, but it can be fun. Decorative wall panels have a way of bringing life and character to an otherwise lifeless area. They can make a wall or walls focal points. These conversation starters can impress clients, shoppers, or even potential investors. They will pay for themselves in no time.
---
Lobby/Reception Area
How many times have you walked into a lobby or reception area of an office building and felt immediately drab? That's because most offices opt for the easy (and least expensive) option of painting their walls a neutral color that they can accentuate with furniture or wall hangings.
However, adding decorative wall panels to the lobby/reception area could change the entire space (and feeling) almost immediately. Impress your visitors/clients/potential investors as soon as they walk in the door.
Take a look at an office in Chile that used decorative wall panels to transform their waiting area.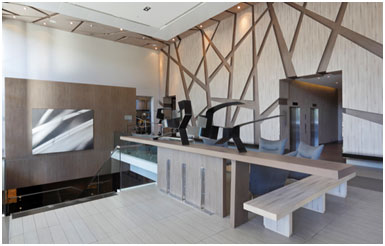 ---
Conference Rooms
Sometimes, conference rooms bring out the worst (but hopefully more often the best) in people. But that doesn't mean the look of them should, too. An office space in Mexico City decided to take their conference room to a whole other level with decorative wall paneling. They transformed the space by giving it character as well as an open feel. They are more like dividers rather than walls that shut others out. This looks like an inviting, creative, and collaborative space to house any meeting.
---
Office Spaces
When you're working a majority of your day in an office, you want it to feel like home—a place you can enjoy being in for extended periods of time. Decorative wall panels are great for that very purpose! Although the decorative wall panels below don't take up the entire wall, they do give an element of surprise and excitement to an otherwise boring area.
---
The Lounge
Maybe your office is looking for a hip place to eat lunch together and your old lounge isn't cutting it. That's not a problem with decorative wall panels. In fact, if you are in a noisy office building that has noise coming at you from all different angles, you might like the idea of acoustic panels that diffuse sound (not necessarily absorb it completely). Whatever is happening outside of the walls of the lounge will sound a lot less loud inside with these decorative wall panels.
---
Accent Walls
Your office may not be large enough to have an entire area decorated with decorative wall panels. However, you might be able to afford to make one wall the focal point of the entire office. This could give the space character and enthusiasm. Picking something that is unique, colorful, durable, and practical are all important factors to keep in mind. However, having an accent wall could make the space feel more inviting for those visiting the space for the first, third, or twentieth time.
---
Don't Stop at the Office
Most of your day might be spent at your office, but that doesn't mean you have to keep the decorating all at the office. Decorative wall panels are great for the home, too. They can take your painted walls to a whole other level.
---
The Bedroom
Escaping to your bedroom after a long day at the office is what you dream about all day long. Why not make the bedroom a place that you are also equally as stimulated by aesthetically? You could go with something larger and more obvious if your space is large enough for it. These could be done in a few larger pieces rather than many smaller pieces, which could potentially save you money. The material could also be determined on the space—smaller spaces wouldn't get heavier materials like faux brick or faux leather. Small spacers might benefit from lighter materials like bamboo and PVC.
You could also opt to use the decorative wall panels as your headboard in either your master bedroom or guest rooms. Unique materials make for great headboards because they are the focal point of the room. Your bed is often the center of the room, which makes having the decorative wall panels as your headboard a perfect design option!
---
Spruce Up the Family Room
Elegance is not lost on the family room. It may be a place where you spend the most time with your family, which might make it seem like a less-than-worthy area to focus your design efforts on. However, that's not the case! You can transform your family room from a place that feels uninviting to a chic, loving area for everyone. It is possible to have style and functionality in one room.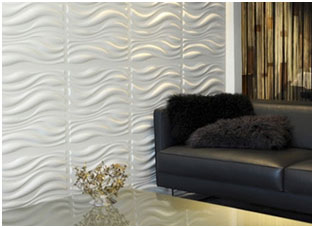 If you're ready to take your office space or home to a different level, check out our decorative wall panels here to get ideas and start your renovations → https://www.decorativeceilingtiles.net/wall-panels/