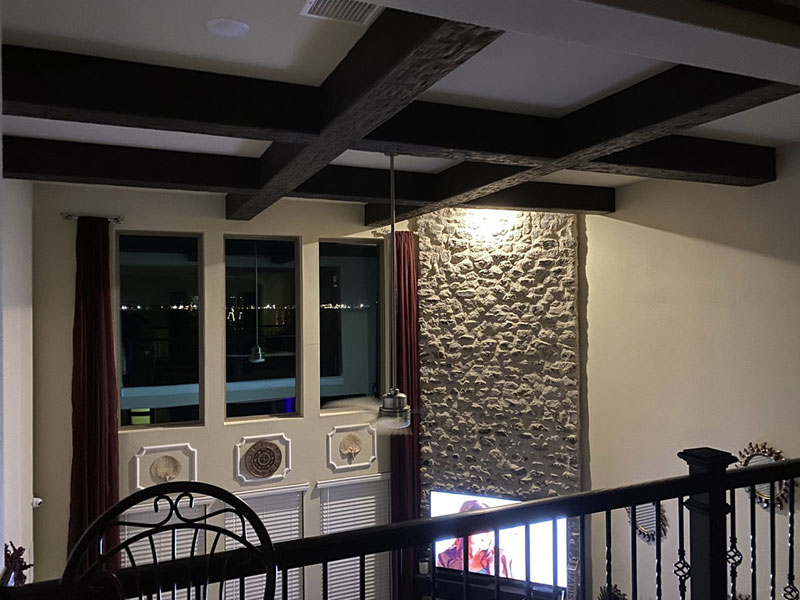 Have you been considering the prospect of making your faux wood beams? With the help from this guide, you'll soon get the idea of how to make them and what's usually involved. Faux wood beams are a masterful feature that can help make an incredible difference for your home.
It has become a common choice instead of exposing wood beams, as they are costly, not maintenance-friendly, and can be too heavy for many ceilings. With faux beams, you can create a wood-like beam made from foam insulation sheets. It's cheap, light, and ever so easy to create yourself.
Step 1
Cut the insulation sheets into boards. The thickness depends on the distance you want them to hang down from the ceiling. Before you cut the sheets, make sure you have planned accordingly. It will eliminate any mistakes during the project.
Step 2
Glue the boards together using foam glue. There are two ways in which you can do this:
You can glue numerous boards together to make a solid beam. Although this will be more resistant to damage, it does require more foam.
You can also glue three boards together into the base and sides of a beam. It will leave the beam hollow. If you decide on gluing this way, you'll use less foam but it's more susceptible to damage.
Once you've chosen either of these methods, it's time to let the glue dry.
Step 3
It is where you'll simulate the wood grain appearance. Slide a wire dog brush against your foam beams. This will create a grain texture. To add knots and other imperfections, use a nail to do this carving effect. If you're looking to create an older-looking beam, remove entire chunks of foam along with the corners.
Do note that the rougher and more unequal your pattern is, the more it will look realistic.
Step 4
To get a dark brown effect, paint beams using acrylic paint. Once applied, allow the paint to dry. It will fill in the deeper areas when the painting is completed.
Step 5
To enhance the effect, you can dry brush a softer wood color to highlight the beams. Dip your brush into the paint and then wipe most of it onto a rag or old newspaper.
Then take the brush and drag it across the beam but avoid being parallel to the grain. The paint will then reach raised surfaces, leaving the carved-in detail dark.
Step 6
If you are fortunate to have helpers, then it's time to utilize them. Have them hold each beam in place along the ceiling while you screw them correctly in place. Use three-inch wood screws in this project. Insert them at the upper corner of the beam. Make sure you screw it in at a 45° angle, coming in into the foam and your ceiling.
At this point, you should check to see if the beams are installed securely. If they aren't, then it increases the chances of them falling, and this could cause damage or inflict injury to you or others in your household.
Follow this using one screw every foot for solid beams and every two feet for those that are hollow.
Step 7
Paint the screw heads so that they match your new wood-looking beam.
Step 8
Take a step back and admire your work. Was this the appearance you were looking for? Is the effect exactly what you planned? If the answer is yes to these questions, you can pat yourself on the back. Although it may not be the most difficult decorative project, it still requires careful application and significant concentration.
The Finish
Once you have these beams installed, you'll notice their ability to add warmth and character. They create a more intimate look, which is typically one of the main reasons to install them.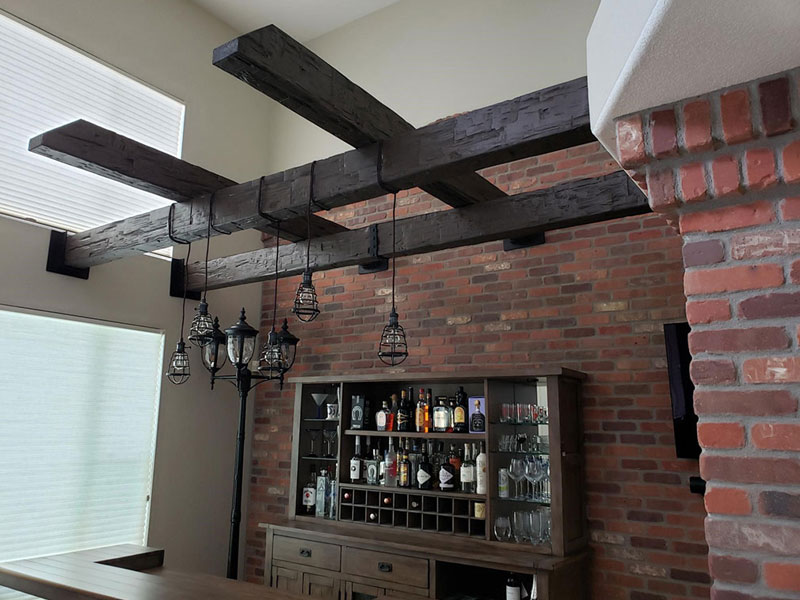 You'll notice there isn't much difference between this type of application compared to using actual solid wood beams. A real wood beam may be a magnificent feature to have in your home, but it comes with various cons that cannot be ignored.
A faux beam is simple to make and straight forward to install. Moreover, they imitate the look of real wood incredibly well, and that's the overall effect you're looking for.
Ways to Enhance Your Faux Wood Beam Look
Why stop at just having just this type of beam installed? To gain a further elegant outlook, consider additions that can make a difference. Such ways include:
Adding a Chandelier: If you can have a chandelier placed on or nearby your faux wood beam, then you'll reinvent the room beyond your wildest dreams. The lighting effect alongside the classical look of the wooden beam go hand in hand, and you'll notice how stunningly elegant your room has become.
Adding More Faux Wood: This can be a worth while idea, especially if you have leftover material. If you can match additional faux wood with your installed faux wood beams, then your rustic-styled theme will enhance even further. With faux wood, you can imbed items like a bookshelf, a nightstand, or even a table if you have utilized all this inside a dining room.
Dress up Your Ceiling: A great way to enhance the look of your faux wood beams is to focus on the ceiling where the beams are fitted. A tray ceiling tends to be a great match for faux wood beams, especially if you can fill the tray ceiling with wooden planks.

This method adds color and texture, and just like the faux wood beams, the planks to the ceiling will bring a cozy, warm feel. If you're looking to generate a farmhouse decor theme, then this layout is highly recommended.
To get a stronger idea of how to enhance the look of your faux wood beams, check out our guide to faux wood beams.
Verdict
Now you should have a strong idea of how to make your faux wood beams and how you can enhance the look. Faux wood beams are a popular decorative feature, so adding a personal touch allows you to be creative and unique.