When it comes to decorating a room, what often gets overlooked is when it comes to decorating is the ceiling. Usually, it's left to be neglected and kept white and dull. For many professional decorators, they'd argue that leaving ceilings like this is a major missed opportunity. If you are considering the idea of having your ceiling painted, then know that you have every chance of applying the surface with eyecatching colors and patterns that add dimension in a refreshing and surprising way.
If you are seeking inspiration on what patterns and colors your ceiling requires, then this guide aims to help you make the right decision.
---
Ways to Hand Paint Your Ceiling
Ceiling Medallion: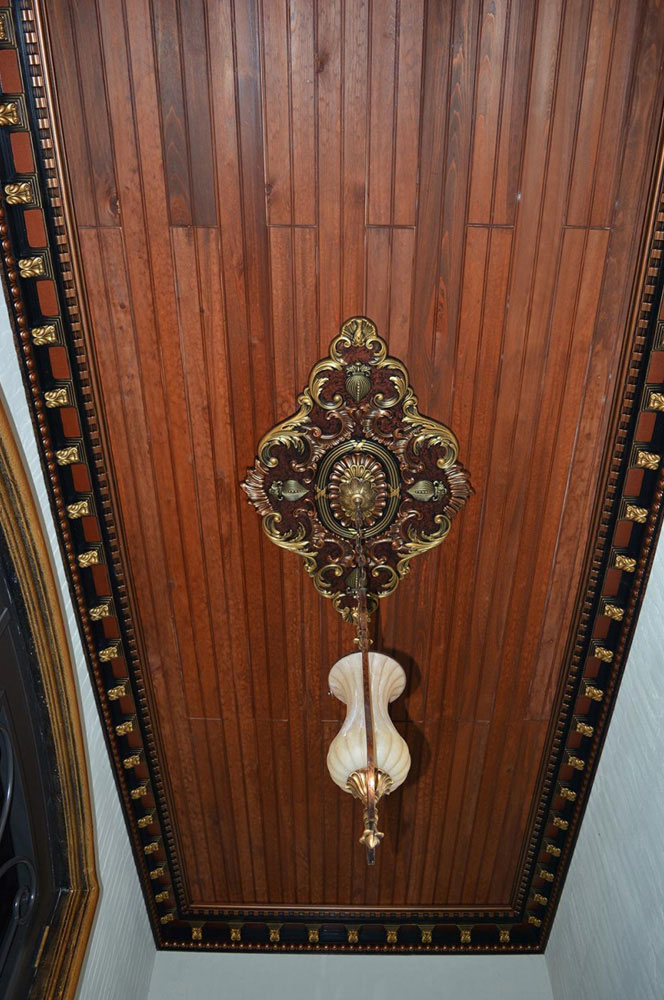 There's a common saying within the decorating industry that ceiling medallions, alongside other architectural elements, should be left white. However, this is not always correct. In fact, hand painted ceiling medallions can help make your room look rich and elegant, as long as it coordinates with the colors of your room.
A way to get your ceiling medallion to have a bold effect is you can highlight their design by painting them with gold, bronze, silver, or brass paint. Check out our collection here so that you can get an idea of the gorgeous effect this has on your ceiling medallion. If your ceiling medallion is used along with a lighting fixture, the decision of the metallic paint color choice should be based on the kind of finish the metal part of the chandelier or other lighting fixture has.
Faux finishing of ceiling medallions and other architectural elements is now hugely popular among decorators. Ceiling medallions can be faux finished using an antiquing technique, or they can be finished to look like wood, stone, leather, or even fabric.
For ideas on how to paint and design your ceiling medallion, here are several ways to get them looking eyecatchingly presentable:
Metallic Finish: Applying this will bring a distinctive and fashionable finish that will allow your medallion to be the center of attention in your room. If you were to use this concept in all of your architectural items, you could easily design and compliment your room to newer lengths.
Stencilling: This is a way to achieve a quick and simple way to add pattern to any painted surface. If you apply this method to your ceiling medallion, you'll be able to accent and complement your room. Precut stencils are available in myriad styles – the options range from traditional Early American, to sophisticated to whimsical.
Marbleizing: This allows you to bring out lavish details of your ceiling medallion. Moreover, by purchasing the right design, you could end up creating an elegant feel, especially if you match your floor or create a conversation piece which draws the attention to your guests.
Wood Grain: If you manage to paint your medallion with wood grain well, you'll be convinced that it isn't actually faux. While graining certainly takes skill, judgment plays an equal role – you have to know what the wood looks like and make subtle adjustments to your work to bring out realistic pattern and color.
Hand Painted Details: This is where you can let your imagination run free – by hand painting your ceiling medallion. Create any mood you desire by applying a smooth or textured paint directly to a ready to finish surface.
Ceiling Tiles:
More often than not, people paint their ceiling tiles to give it a more antique look to the room. To help you find a particular ceiling tile design or just some inspiration, follow this link to see our collection of hand painted ceiling tiles.
There is a difference between ceiling paint and interior paint. Typically, for ceiling tiles, you will use spray paint or flatlatex paint. Except for wood tiles. It is also easier to apply your paint with a sprayer rather than a brush or roller. However, a good brush and roller are great options if you decide to go with them.
What kind of paint is best to use for ceiling tiles? This all depends on what type of ceiling tiles you have. Ceiling tiles can come in a variety of materials, including:
Metal: Mostly made of tin.
Faux Tin Tiles: Usually made of thermoplastic such as PVC.
Plastic
Wood
Fiberglass which is typically not painted over
Mineral Fibers usually used for Noise Reduction Coefficient (NRC)
Now that you know the forms of ceiling tiles available, it's time to consider what handpainting ideas will suitably match your room's décor.
For the process of applying paint to your ceiling tiles, it's about choosing or matching the right colors so that your room can blend nicely. One way of committing to the idea of handpainting your ceiling tiles, is by painting them with a burst of color – maybe even to the point of being louder than your walls. This is a great way to generate a unique appeal.
Another option is to choose classic color combinations. If you fail to do this, then you risk the room looking unattractive. So make sure you plan your color theme accordingly and find colors that match naturally.
Crown Molding:
Decorative crown molding adds some upscale appeal to your home's interior spaces. These strips, which are usually made from wood or polyurethane, are available in a wide variety of sizes, styles, and finishes.
However, you can purchase unfinished crown molding to create your own custom look. Then, you'll affix it to the upper portion of a wall adjacent to the ceiling which will then draw your eyes upward.
To get a view of the types of crown molding we offer, click here and it will show you the options and hopefully give you an idea of what you're looking for.
If you're looking for ideas on how to handpaint your crown molding, then here are a few options for you to consider:
Going with the same color: For a modern room, design experts suggest using techniques that help the trim blend with the room color. Achieve this by painting the trim the same color as the walls or a tinted version of it. It gives the room a fresh, unified look.
Going light: For classic or traditional interiors, using a white or offwhite paint can play up the trim and bring out its historical or intricate qualities. Many professionals consider white the most ideal color for any trim, regardless of interior style or wall color. If your walls are dark, then white trim lightens and brightens the room while making the wall color flourish.
Going dark: This option has grown in popularity – even black. Dark trim gives a room more depth than white or light trim does, and effectively frames views when used on window casings. In addition, dark trim contrasts nicely with some of today's trendiest room colors: soft aquas, powder blues, greens – from lime to celadon – and the gamut of greys.