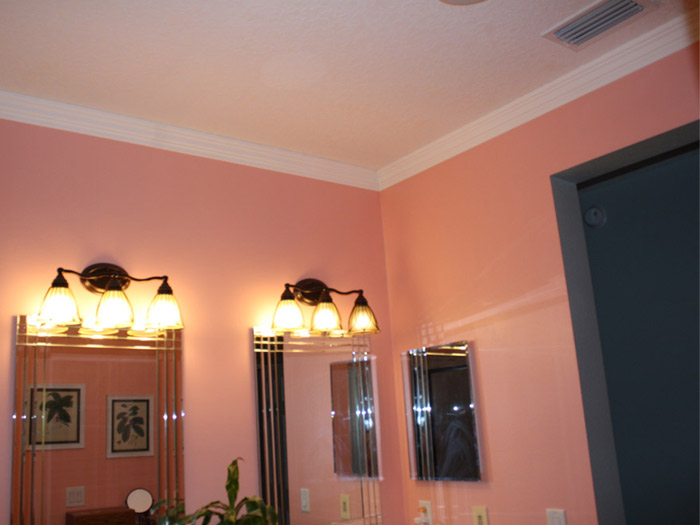 Why Easy Crown Molding is Right for Your Space
Crown molding adds a lot of character and interest to an interior, but many people are reluctant to install crown molding because they think it is complicated or that their space isn't right for the feature. They're missing out on something special. Crown molding installation is easier than you think, and it works well in many different spaces.
One of the things people love most about crown molding is the dramatic effect it has on a space. It can take an average space and make it something special. It can create a more formal feeling in a space, but it doesn't need to, and it's actually suitable for rooms of any use. Perhaps best of all, it's an affordable upgrade to make to a space that will add a great deal of value. People love how crown molding looks in a room, and it can create that "wow" factor many people want in their homes or other spaces.
---
What are some of the other reasons why you should forget the myths and consider crown molding for your home and other spaces?
Crown Molding is Right for High or Low Ceilings
Many people avoid crown molding because they think their ceilings are too low for the feature. Not true!
Crown molding can be installed in spaces with low or high ceilings, and it can actually help low ceilings look higher. It creates an optical illusion by drawing the eye upward to an area that would normally go unnoticed, so it works in the largest and smallest spaces.
Depending on the type of the trim and the molding material used, you can get different visual results. While enlarging the ceiling will not work on wood crown molding, it will work wonders with plaster or gypsum.
Crown Molding Can Be Made From a Variety of Different Materials
Many people believe that crown molding must be made from wood and less expensive options won't add any value to their space. This isn't the case. If you want to add value to a space, there are plenty of high-quality options in a variety of price ranges. This includes polyurethane crown moldings or Styrofoam crown moldings.
Finally, there are even some exclusive materials that you can use as decorative pieces in your master bedroom or living room. Even a decorative stone piece can be added if your budget is not an issue, but plaster and even some types of metal can be used instead.
As a matter of fact, these materials can offer even greater benefits than wood. They stand up better to the elements over time and don't crack or warp like wood. They're perfect for environments in which there are frequent temperature changes, which make Styrofoam crown moldings perfect for an RV that moves from climate to climate and face unpredictable conditions.
Crown Molding Works Well in Spaces that are for All Kinds of Uses
People redesigning their spaces often assume that crown molding is too formal to work in rooms that are more functional or that are frequented by children. If they are considering it for achildren's room, they might dismiss it because they are thinking of the space as an informal space. But in reality, crown molding is durable and can stand up well in a room used for just about anything. Styrofoam crown moldings are especially durable and perfect for rooms that are frequented by children, pets, and adults and used for just about any purpose.
Crown Molding Can Be Any Color
For years, crown molding came in one color: white. Nowadays, you can install crown molding in any color of the rainbow. It doesn't always need to be white, and it shouldn't be white if other moldings in the space are a different color. You can paint or stain crown molding any color you want, which means it can be perfect for any space.
There are even instances in which crown molding would be better left natural or unpainted, though you can paint it any color you choose. Be creative and choose a style and color that works for your space!
Crown Molding Makes Big Spaces Blend Cohesively, Even When It's in Varying Styles
Many people assume crown moldings in a home or other structure must all match. It's true, you want the crown moldings in a single room to match, but it doesn't need to all be the same style throughout the entire structure. Different styles work well because you can choose based on the function of the room. There is a wide array of crown molding styles to choose from, and you should opt for the style in each room that works best with the room's purpose, even if it doesn't match other crown moldings in your home.
Crown Molding and Ceiling Tiles
If you're redoing the entire upper space or a room or an entire room, you might have questions about the installation process. One of the most common is whether you need to install the crown molding before or after the ceiling tiles.
Easy crown molding can be installed before or after tiles. So if you have tiles in place and you don't plan to replace them, there's no reason why you need to remove them to work on the crown molding.
You can also install the tiles after the crown molding if you are starting with a blank slate and plan to add both design features. It takes about the same length of time to install the tiles and the crown molding, regardless of which project you tackle first. There's also no need to caulk the top of the crown molding prior to installing the tiles.
Keep in mind that it will be faster to cut your perimeter tiles if you have not measured them exactly as is during the crown molding installation. And depending on how your tiles are designed, there might be large gaps after installing the crown molding over the tiles. In this case, you will need to caulk. And the second round of caulking might even be necessary after the caulk dries and shrinks.
So there you have it, all of the reasons why crown molding will work great in your space, regardless of its size or function. Easy crown molding can be a simple installation for even the novice DIYer, but it can make a powerful impact on the design of a space. If you want to change the look of a room drastically, crown molding is an affordable and simple way to do it.