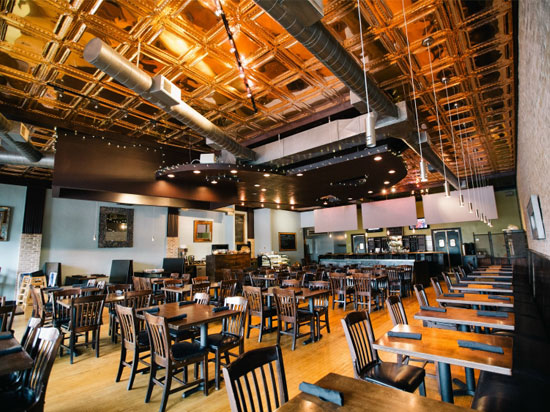 Egyptians were among the first people to discover that copper is malleable, has a sharp edge and that it could be fashioned into tools. It is for this reason that they started experimenting with this material to make jewelry. Soon after, they began hammering out the metal to makes sheets, which they used on their ceilings and walls.
Thanks to their discovery and early experiments, copper ceiling tiles are now all the rage on the market. In fact, statistics show that metal ceiling tiles, particularly copper, are becoming more popular than traditional options. This overview highlights everything you need to know about copper ceiling tiles.
---
Cost of Installing Copper Ceiling Tiles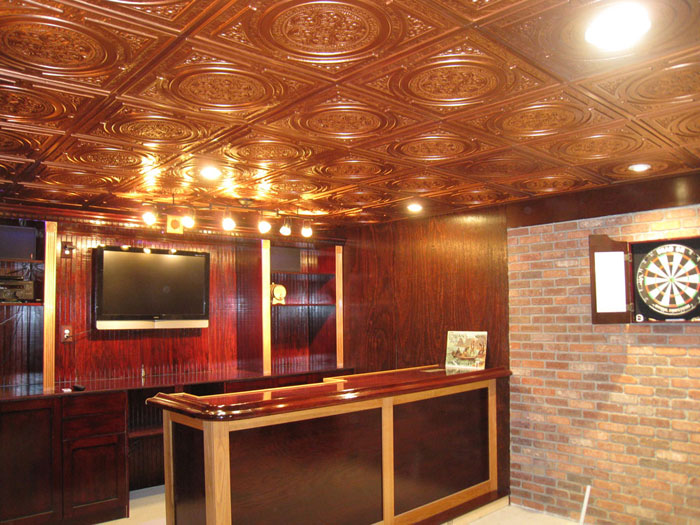 If you have ever installed any sort of metal ceiling, one thing you might have realized is that more elaborate materials cost more than others. Copper is no exception. So if you prefer the most elaborate copper tile, you should expect to pay a premium price.
On average, a copper ceiling tile costs about $20 for a 2' by 2' piece. But well-detailed copper tiles can cost up to double this amount. If we break this down into square-footage expenses, an individual can incur between $10 and $15 per square foot.
If your budget does not accommodate this range, there are cheaper options that you can go for. For instance, PVC ceiling tiles are designed in ways that mimic the look of copper tiles. The latter is a cheaper option. If one looks very closely, he will be able to discern the difference between the two materials. But very few people stop to examine a homeowner's ceiling. All that matters is that it the PVC ceiling tile looks expensive and costs you a fraction of the price.
---
What is the Best Location for a Copper Ceiling?
Most homeowners install copper ceilings in their kitchens and bathrooms. Overall, these ceiling tiles are a fantastic option for many other applications including game rooms, dining areas, dens and more. They are preferred by a majority of the way they add richness and depth to a room.
---
How to Install Copper Ceiling Tiles
When you decide to install copper ceiling tiles, you will have to choose from a number of options. There are faux-tin, Styrofoam and solid copper ceiling tiles. Now just as there exist different types of copper ceilings, there are also different ways of installing each one of them.
For instance, if you go for PVC faux-copper, these come with pre-glued backing, which makes for easy peeling and installing. This is made possible by the fact that PVC tiles are light, so they don't fall off from the ceiling when they are glued.
Another type of copper ceiling is the "real copper" tile. This one is not light like the PVC faux-copper, which is why it has to be screwed into strips. Alternatively, these pieces are used in tandem with a suspension grid. These installation methods ensure that real copper ceiling tiles are not pulled down from the ceilings by gravity.
---
What Kinds of Nails Should I Use?
When installing copper ceiling tiles, the most recommended nails are the 18-gauge, T-brad nails. These nails are good for attaching the copper tiles to the furring strips on your ceiling. You can also go for decorative upholstery nails, which help to add an elegant finishing touch. Other commonly-used nails include the dome head and cone head finishing nails.
---
Why You Should Consider Copper Ceiling Tiles
Aesthetics
One of the primary reasons why homeowners go for copper ceiling tiles is because of their aesthetic value. Similar to other metal ceilings, copper tiles are available in a wide range of patterns, which include autumn leaves, daisies, and 3D geometric designs.
But what makes copper ceiling tiles really stand out is their glistening burnished gold hue. Their rustic exterior will grab the attention of everyone who walks into the room. And the good thing is that they increase your home's value significantly, which is a bonus if you plan to sell it in the future.
Economical
Most homeowners who shy away from copper ceilings and metal tiles in general, do so because they assume that these options are pricey. But the truth is, you don't have to invest in real copper tiles to reap the benefits of a copper ceiling. There are alternatives such as the lightweight and cheaper copper-finished metal. Such ceiling tiles are not only less expensive to buy but also in installing. Copper-finished tiles are usually cut into sheets and then glued over your ceilings. This installation technique saves you a ton of money in labor and supplies.
Eco-friendly Alternative
Another perk that is often neglected is that copper ceiling tiles are environmental-friendly. As mentioned earlier, copper is a type of metal. Metals are natural, renewable resources that don't integrate easily. Furthermore, copper is capable of withstanding heavy precipitation and lightning relatively well. These attributes help to protect your home from damaging external elements.
There's also the benefit that copper metal is ultra-durable and impervious. This means that bugs cannot access your home easily. In the long-term, such factors save you significant costs as you won't have to worry about pest extermination or ceiling replacement expenses.
---
Tips from the Experts
There's a good reason why a majority of homeowners hire professionals to install their copper ceilings. These individuals have years of experience in what they do. But this does not mean that you have to hire one. If you're looking to save some money, turning this ceiling into a DIY job is your best option. Here are a few things you should keep in mind:
If you're installing the tiles on a low-hanging ceiling, go for light-colored copper. A light color helps to accentuate the look of the ceiling so that it appears higher than it actually is. Bold-colored ceiling tiles are best suited for the bathroom or small-sized rooms where they bring out a dramatic effect.
Another recommended tip is to utilize filler rim, to make up for the distance between the last row of tiles and the wall. Instead of cutting the tiles and ending up with an inconsistent look, you should consider a filler rim.
---
Wrap Up
One of the most common types of metal ceiling is copper ceiling tile. This material is quickly gaining popularity due to its numerous benefits. Copper ceiling tiles make your room look stunning, are eco-friendly and economical in the long-run.