Posted by Milan Jara on 4th Feb 2019
Adding a ceiling medallion to any room instantly gives it a glamorous and elegant look without much effort. These decorative features are ornate in fashion and are usually round in shape. They instantly dress up any ceiling and add a feeling of royalty to any room.
Traditionally made of plaster, ceiling medallions became popular in the 19th century when many middle- to upper-class homes began to install them to create a more decorative ceiling.
In today's society, a ceiling medallion can be used in any type of home to give an instant facelift to a room, and many even have a nice ceiling fan to go with the light. Today, they are very light and can be added easily with construction glue or similar.
---
What Are Ceiling Medallions Made Of?
From the bottom looking up, you might be inclined to think ceiling medallions are made of some kind of heavy wood material. However, new designs have changed the ceiling medallion game with these decorative features boasting wood or polyurethane foam. The foam designs are lighter, cheaper, and easier to install. However, no one will know the ceiling medallion material from the floor level.
Typically, you will find each ceiling medallion fixture installed between a hanging light fixture and the ceiling, giving it an extra pop. They don't actually serve much of a functional purpose in the home.
Instead of being handcrafted and ornate, today's ceiling medallions are mostly produced in factories. With hundreds of designs to choose from, homeowners can find a ceiling medallion that fits their home design pretty easily.
---
How Do You Choose the Right Ceiling Medallion?
There are some considerations to consider before installing a ceiling medallion in any room. You simply cannot pick a medallion and install it without first thinking of a couple of things.
The Room Size
First, take a good look at the room you want the ceiling medallion to go. The room size will determine what kind of ceiling medallion you go with, as you will want the medallion to be proportionate to the room size.
You can measure the room, get the square footage, and then divide by seven to get an appropriate diameter in inches for your ceiling medallion. Be aware that this will not work for every situation, but it is a good starting point if you aren't sure how to start!
The Style
Next, consider what kind of style you want the ceiling medallion to help enhance or bring to the room. With larger rooms, ornate ceiling medallions with intricate designs would be great matches. For small rooms, more delicate and simple designs would do the trick.
Crown moldings are great to use for gauging what kind of ceiling medallion you should install. The patterns in the crown molding can help you determine what kind of medallion you need.
The Lighting Fixture
You will also need to consider the size of your lighting fixture when deciding what kind of ceiling medallion you need. The light fixture will be the main focal point in the room, which means the medallion must match it.
You can choose a ceiling medallion that is larger or smaller than the lighting fixture. However, the room size is the biggest size factor here. Smaller rooms won't have larger light fixtures typically, which means a larger ceiling medallion is probably not in the cards for the smaller room either.
The Budget
And lastly, determine the price range you want to stay in. Ceiling medallions can be pricey if they're actual wood and very intricately designed. However, your budget may not require a large, ornate ceiling medallion.
You can certainly opt for a lighter, less expensive option with the foam medallions that look just like the real deal. But knowing how much you want to spend is key to finding the right ceiling medallion for your space.
---
Shapes and Sizes
With today's new interior designs taking old features and turning them into fresh features, ceiling medallions have actually gotten a bit of a facelift over the years. Instead of being the traditional round, ornate fixtures in a room, ceiling medallions can be found in various shapes and sizes to meet your specific interior design needs and wants.
You can find ceiling medallions in a variety of sizes and shapes. The sizes range anywhere from four inches in diameter to 36 inches in diameter. You may need to install more than one ceiling medallion for much grander rooms.
Circular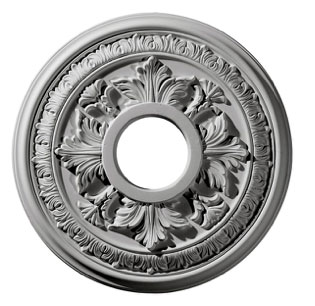 Beautifully designed circular ceiling medallions will accent any room perfectly. Usually, the designs mimic leaves or flowers, as seen in the above picture. You may find plain and simple circular ceiling medallions that give a modern space the right touch of elegance, too.
Rectangular/Square
Unique describes the square ceiling medallion perfectly. These medallions aren't typically intricate in style and bring a more modern, crisp look to a space. A rectangular ceiling medallion is great for larger spaces that need something on the ceiling to take up a great deal of space. A rectangular ceiling medallion in a smaller room would not look as polished.
The square ceiling medallion is typically modeled after older historical patterns and designs. If you choose a solid urethane material, it will prove to be durable, lightweight, and easy to install without coming up short in the character and detail department.
Unique Shapes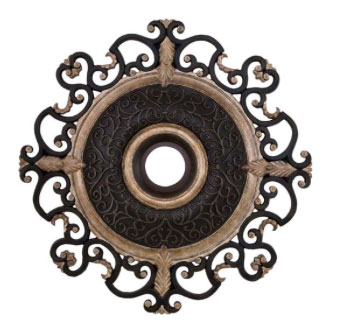 These unique ceiling medallions work perfectly with Napoli fans and help finish the look with the right touch. These ceiling medallions are intricate, sophisticated, and bring a touch of old-world style to any home. Of course, uniquely-shaped ceiling medallions fit very specific purposes, so be aware of your design surroundings before purchasing an out-of-the-box ceiling medallion.
Scalloped Edges
Simple yet classic, scalloped ceiling medallions are perfect for any home that adds more style and elegance. Its design will enhance any room and bring a level of class to any space. The unique shape is intricate and aesthetically pleasing without being overpowering.
---
Show to Install a Ceiling Medallion
Installing a ceiling medallion would certainly make a good DIY project for a homeowner to tackle - as long as they understand the steps involved and the installation is done correctly. Ceiling medallions are easy to install and can significantly elevate the look of your light fixture.
What You Need for a Ceiling Medallion Installation
Keep in mind this is just a general list and is in no way extensive. You may find that your installation requires additional tools or steps, or you may not require some of the tools we have listed.
Before starting, make sure the power to the fixture is disconnected and off at your electrical box.
Ceiling medallion
Finishing nailer
Wood filler
Sanding block
Paint
Light fixture
Trim head screws or coated screws
Liquid Nails or another adhesive caulk
Wire nuts
Are you planning to keep your existing fixture or replace it? Either way, you will need to completely remove the current fixture for your ceiling medallion installation. You can then use caulk on the backside of the medallion.
Sometimes an adhesive caulk will work better than another kind of construction adhesive because it allows you some wiggle room as you find the best placement for your ceiling medallion. The caulk will hold your medallion in place until you are ready to secure everything.
Next, you will wire your light fixture. Make sure to follow the instructions that come with your selected light fixture and follow all steps when it comes to the electrical wires of your light fixture.
If you have a larger medallion, you need to use finishing nails after it is in place and everything is screwed in. A few just around the perimeter of a larger medallion will ensure that it stays in place with more than just the adhesive caulk you used during installation. Also, remember, the medallion is really attached to the light fixture as well, so it should be secure.
Longer screws are good to use here because they are long enough to get through the light fixture and the medallion.
Use your wood filler to fill any nail or screw holes you made during installation. Sand away any excess wood filler and touch up the paint on your plaster ceiling medallion if necessary.
Here are more detailed instructions on how to install a painted ceiling medallion.
---
Modern Ceiling Medallion Ideas
A small architectural detail like a ceiling medallion can go a long way to add personality and character to a space. If you recently removed a popcorn ceiling and found it difficult to smooth out the texture around a light fixture, a ceiling medallion is a great way to disguise this and hide the imperfections left after removing textured ceilings.
Painted Ceiling Medallion
If you found the medallion you wanted but aren't excited about the color, then paint it! You can easily change the color of plaster medallions, so they match your tastes. You can also use an airbrush to add details.
Classic White Ceiling Medallion
You can also keep your ceiling medallion a classic white color so that it blends in with its surroundings while still adding some character. Don't be afraid to go a bit bigger for your ceiling medallion when you keep it a crisp white.
Stained Glass or Mirrored
For an even more unique look and tons more personality, a stained glass ceiling medallion or mirrored medallion can be placed around your fixture or assembled like a puzzle. This will add a modern touch to the space and effectively reflect the light.
As Wall Art
You aren't limited to a ceiling medallion location either. You can use a decorative ceiling medallion as wall art. You can find medallions in different sizes, colors, and patterns and use them to create stunning wall art in the home. It makes a great focal point and is definitely a conversation starter.
Plain white medallions also work well as wall art, especially when they are of varying sizes and have detailed carvings that pop and add depth to the room.
---
Final Thoughts
As you can see, choosing the right ceiling medallion for your room isn't difficult, and it can easily dress up an old fixture or plaster ceiling. After uncovering some of the basic design elements and the interior design of your room, you will be able to identify what kind of ceiling medallion you should use and how many you will need to complete the look.
You should also consider the ceiling design as well. You may want a larger medallion if you have tall ceilings and ornate molding.
It is always important to keep in mind the design elements you already have around the room, such as the crown molding and wall color. These factors will determine what kind of ceiling medallion you need and what type will look best in your space. You want to create a cohesive and put together look.
Ceiling medallions are just one home improvement project you can do to add character to your home affordably and easily.