If you're a homeowner or a contractor, does needing to repair or replace your ceiling seem like an unwelcome burden? Honestly, it doesn't have to be – especially with all the solutions available today.
As long as you prepare well and make sure everything is in check before undertaking the project, you'll have the job done in no time. Once you've completed your prep, this is where the fun begins.
This article will provide a list of ceiling tile options for you to choose from. We broke them down further by design, installation, and use.
---
Plastic Ceiling Tiles
Plastic ceiling tiles are a light and inexpensive alternative to standard tin tiles. They come embossed in many different patterns and styles, giving you a large collection of options to choose from. They can also be used to give a geometric, three-dimensional appearance to your ceiling.
Like most tiles, plastic ceiling tiles are simple to install so hiring a professional isn't necessary – especially if you have some experience with DIY. The tiles can be used in a drop ceiling or nailed up and you don't need to worry about damaging them. Plus, you can paint them with the same finishes that tin ceiling tiles are displayed in.
Perhaps the biggest benefit of opting for plastic tiles is that they are one of the cheaper options on the market. If you are looking at your ceiling and know that it's in dire need of revamping but you're unfortunately on a budget, plastic ceiling tiles are the way to go. Don't be fooled by the fact they're cheap and easy to install. Just because this material is one of less expensive options doesn't mean that you'll end up with a cheap-looking ceiling. Some of the best ceiling designs are made of plastic.
Check out our plastic collection and try to come up with a design that's perfect for you.
---
Tin Ceiling Tiles
By choosing a tin ceiling, you give yourself the chance to have a beautiful addition to your home or commercial space.
Despite what the name of this ceiling tile claims, a large portion of tin ceiling tiles are made of aluminum, copper, or brass. To install them, you need to nail them up and overlap the edges of each panel with the next - although they can be used as drop ceiling tiles, too.
These are a little more difficult to install than plastic tiles but tin ceiling tiles can still be fit by most homeowners so give yourself a chance if you are confident in your ability to do the job. You should know, though, that if you scratch or dent a panel, it can be repaired using an auto body repair compound and sculpting.
If you like the idea of having a tin ceiling installed inside your property, check out these options here.
---
Styrofoam Ceiling Tiles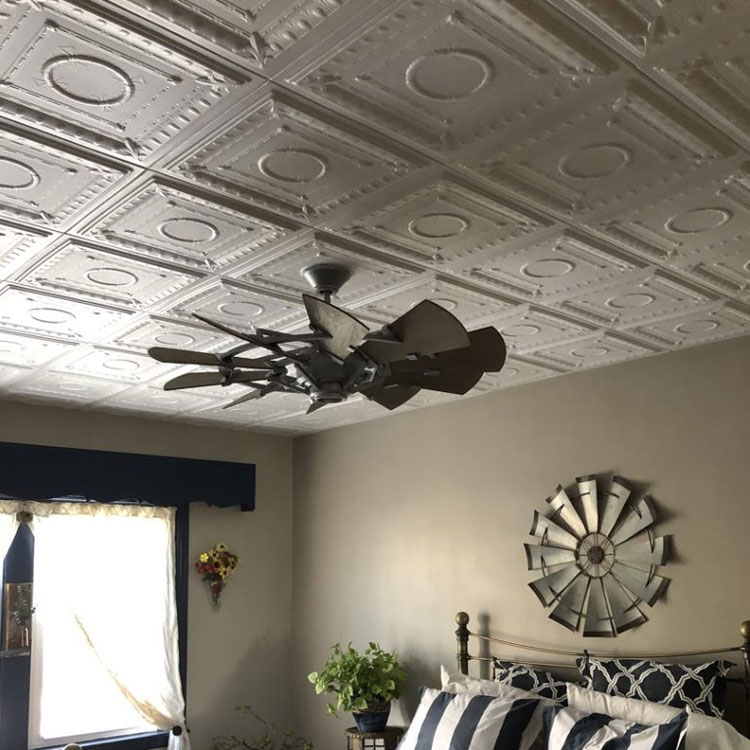 Just like the plastic ceiling tile option, installing Styrofoam tiles is also one of the cheaper ways to go.
Customers who have purchased Styrofoam ceiling tiles normally want to cover up a hideous popcorn ceiling. If this sounds like you then this option is certainly worth considering. Styrofoam tiles can be glued to stipple ceilings, concrete, drywall, plywood, or even directly to the popcorn ceilings.
Foam ceiling tiles are lightweight and soft to touch. If you plan to paint these tiles, you can do so with the majority of water-latex based paints. These tiles look amazing after a splash of paint and they can still look authentic. Even if you're standing several feet away, you won't be able to tell that the tile is a foam-based product.
If you're thinking about fitting these tiles yourself, you'll be glad to know that they are easy to cut and glue to any surface.
---
Faux Leather Ceiling Tiles
There is no denying that faux leather ceiling tiles have a striking resemblance to natural leather. Not only do these tiles make a room look spectacular, but they also soundproof everything around them. If you need extra soundproofing in a venue that gets too loud, it's worth considering faux leather tiles as they can absorb the noise.
If you are in a desperate need to soundproof your room, these tiles also work well on walls. That's why a lot of movie theaters, restaurants, and game rooms lean toward this particular option – they can cut out a lot of the noise that arises within the environment. So, with this in mind, you can do the same!
Additional bonuses to installing faux leather ceiling tiles are that they're fire rated and come in 3D designs.
---
Urethane Ceiling Tiles
First, urethane is a term that refers to three different substances: ethyl carbamate, carbamate, and polyurethane. Now that's out of the way, urethane ceiling tiles are another popular choice when it comes to revamping a ceiling. You get the look of a real molded plaster at a fraction of the weight and cost – alongside lower installation costs and less maintenance.
Urethane ceiling tiles are one of the more durable tiles on the market and they happen to also be one of the more expensive options. But don't be discouraged by their value, there are valid reasons for their cost. They can be placed indoors or outdoors, they do not rot, rust or mold, they are not affected by weather or insects, and you can paint them any color you want so they always match your color scheme.
People often compare urethane ceiling tiles to regular plaster but urethane more durable and won't be damaged by humid conditions.
Ultimately, urethane ceiling tiles are great for value as they're durable and incredibly versatile.
Installing a new ceiling can easily transform the look and feel of your home. If you're looking at your own ceiling and wishing for something new, now you know there are solutions to consider.