Noise is definitely a problem in most offices and you probably already know that choosing the right ceiling tile can help. Whether it's in a private office, the breakroom, or the reception area, a good ceiling tile helps absorb sound so you and your everyone in the office can get their work done without getting a headache.
But now that you've dealt with the noise issues and utilized office ceiling tile ideas in your workspace, what else can you do to make the space functional and inviting?
---
Envision the Big Picture
Before micro-managing decisions about an office makeover, you need to consider the big picture. First and foremost, you need to know how much space is needed for working and consider what tasks will be performed in those spaces. Think about how many employees you have, how much room they need to work daily, and whether or not you'll be bringing other people into your office space. All of these functional issues are your most important considerations when designing an office space.
Next, you'll want to think about the workplace culture within your company. Are you a modern, collaborative company that would benefit from an open workspace or do you think employees would fare better in a more traditional setup with cubicles or offices?
All of these options bring their own set of challenges, but that's okay. You need to choose which will work best for our company and then come up with solutions to those specific problems. Nothing is perfect from the get-go, so don't be afraid to do what you need to do and work forward.
Chances are, regardless of what type of workspace you choose there will be a few common challenges. These are typical challenges in all offices.
Lighting: Natural vs. Unnatural
One of the biggest complaints you'll hear from employees is how difficult it is to function day in and day out in a space with fluorescent lighting. The more you can do to bring natural light into an office space the better. After all, everyone covets an office with a window, right?
Natural light prevents employees from feeling cooped up and shut off from the world. As much as you might think staring out a window is a distraction, it's been shown to improve productivity. Exposure to natural light, even when it's through a window, can improve the body's biology and help people feel more awake and lively. Modern offices are moving toward incorporating as much natural light as possible and for good reason.
Green Space
In addition to natural light, it's important for employees to not feel disconnected from nature and you can do this in other ways. Something as simple as greenery can enhance an office space. Have you ever seen a lobby that features natural elements and might even have trees growing out of the ground? What about open skylights in the ceiling? These are all ways to enhance the work environment, make it more inviting for visitors, and make sure employees don't feel closed off from the outdoors.
Daytime Breaks
Another important feature in any office space is the breakroom. Employees need a comfortable place to which they can retreat and spend a bit of time away from their desks. Ideally, this space will be relaxing and promote conversation and interaction between employees. You can opt for something simple with a coffee machine, a few chairs, and a TV, but most companies are more forward-thinking and want to make their break rooms more of a retreat. They've built-in self-care and mental wellness into the spaces and might include meditation or nap spaces for employees to truly get a break.
Storage
It's no secret that it can be tough for businesses to find enough storage space. The more you're able to find organized solutions that meet your company's and your employee's needs the better. When you are designing an office space, no matter how large or small, make sure you consider storage and come up with solutions that function well and fit the design aesthetic of the space.
Tech
You're going to need to think about technology in your workspace. Granted, it's more function than form, but it's still an important part of doing business. It's a good idea to bring your IT team in on the design of any spaces related to tech. In addition to office ceiling tile ideas, there might be other things that can be done to protect your infrastructure and make sure everything you need is where you need it. You should also consider access to wiring and cables if they're located in the ceiling. Your IT team can often advise you of the access they'll need to do any troubleshooting or repairs that come up. Sometimes, the solution may not be the prettiest option but in an office setting, it's important to sometimes consider function over form.
---
Choose Carefully for Sound and Substance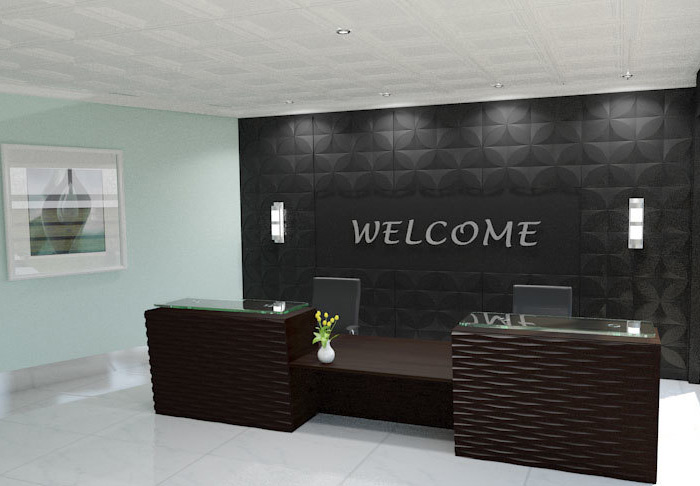 The most important thing you can do when designing an office space is to think carefully about your choices and not rush into anything. Whether you want to incorporate the latest office ceiling tile ideas or you are looking for ways to improve on very specific problems, it's important to do your research and move slowly when deciding what is going to work and not work for you company and your valued employees who spend so much of their time in that space.
Remember, ceiling tiles are one of the most important decisions you will make when decorating or redesigning an office space. It's important to consider all of the ways that it will impact the workspace. The work environment very much affects a company's bottom line so choose a design that gives employees and your business the best chance of succeeding.