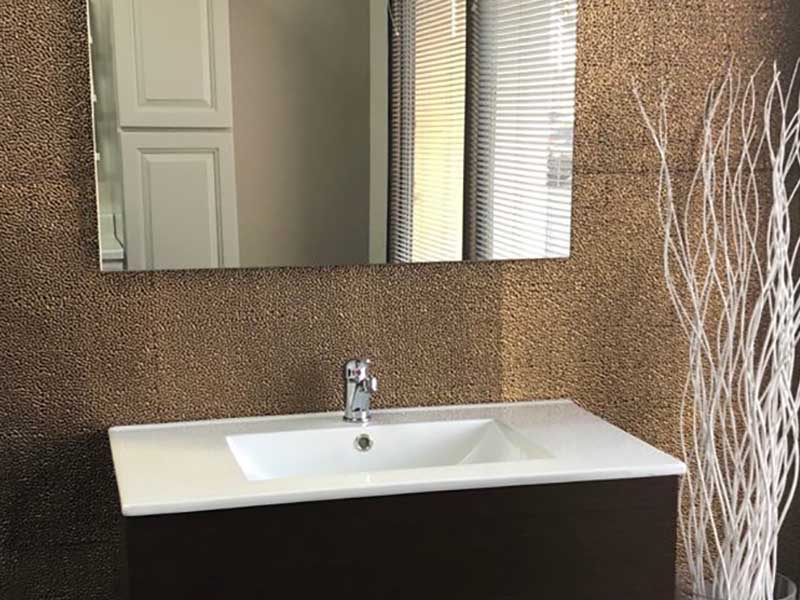 When it comes to remodeling a bathroom, the cost can be quite expensive. It's important to plan this project accordingly to get everything right when you do the job. One of the areas you might want to change during a bathroom remodel job is the walls. Many ideas can transform these walls, but the most popular way to do so is by using tiles.
These days, you can find various types of materials suitable for this part of the house. All you have to do is pick out the one that you like the best. The primary features you need to consider before purchase are durability, waterproof, mold-resistance and the cost of the material you plan to use.
Let's examine the most desirable and quality bathroom materials on the market today.
Ceiling Tiles
Although it may not be the standard option, you can mount polished, refined, and classy ceiling tiles on the bathroom walls. It may not be traditional, but it's becoming more and more popular within the decorative world.
What makes them an excellent choice is that they are waterproof, reduce noise, and are very easy to clean. Moreover, they are moisture-resistant, which is crucial to have within a bathroom.
One popular material used for tiling inside bathrooms is metal. Metal ceiling tiles are simple enough to install on ceilings, but they are just as easy to place on a wall inside your bathroom. As they're moisture-resistant, you have a set of tiles that can protect the structure of your home. In a space prone to leaks and susceptible to moisture, having walls with moisture-resistant protection can save you money, time and stress.
As metal ceiling tiles are moisture-resistance, it's also worth mentioning that they are also resistant to rust. When there are other metal objects prone to rust in your bathroom, such as pipes and faucets, metal ceiling tiles are an investment that can last you a lifetime.
Soundproofing is another benefit to having metal ceiling tiles placed inside your bathroom. This area of your house may be the one you visit the least, it is still important for relaxation. Placing metal ceiling tiles around the walls can certainly give you that opportunity to take some alone time and relax in the tub while your children or partner are busy elsewhere.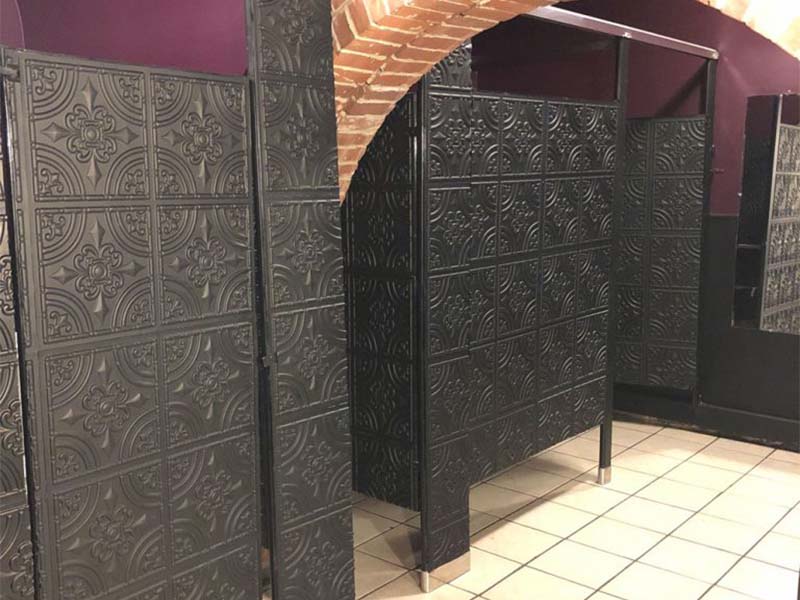 Ways to implement metal ceiling tiles into your bathroom
With metal ceiling tiles, there are many ways in which you can use them for your bathroom walls. Here is a list of ways that will work:
Backsplashes: You can use metal ceiling tiles to create beautiful backsplashes for your bathroom. They are ideal in the bathroom because they are incredibly easy to clean. Backsplashes act as a shield from water splashes, helping to prevent moisture buildup, mold and mildew.
Mirrors: You can use metal ceiling tiles to border a mirror you have hung up in the bathroom. The design instantly enhances the look of your mirror, which enhances the complete look of your bathroom.
Artwork: A lot of homeowners like to add some artwork to their bathrooms. If this applies to you, then using metal ceiling tiles can be used for this purpose. They are perfect for the bathroom because they are a cheap way to accent any style of bathroom. Unlike artwork that comes on a canvas, you won't have to worry about metal ceiling tile artwork being damaged by moisture.
When it comes to adding ceiling tiles to your bathroom, it's important to match the decor; otherwise, you're just going to unevenly match a load of colors and textures which will ultimately create a distasteful space.
The same method should apply even if you are planning on transforming the guest bathroom. You wouldn't want your guests entering the guest bathroom and being left confused by the unevenly balanced decor scheme.
Other Ceiling Tile Materials to Place in Your Bathroom
Polystyrene: This type of ceiling is a convenient solution for your bathroom if it's become old and neglected. It also allows for an easy installation process. All you have to do is place them over the existing cover.

These lightweight tiles are easy to handle and you can paint them to meet your taste. Once you've placed them on the wall, you'll find that they are great for insulation as well as being able to enhance the decor of your bathroom – all without the need to spend a load of money. The only real con for using polystyrene ceiling tiles is that they can be a fire risk.

PVC Paneling: Contemporary PVC ceiling panels are another way to cover up the walls inside your bathroom. They are entirely waterproof, which makes them a viable solution for bathrooms with condensation issues. They are lightweight, inexpensive, clean, durable, and visually appealing. Ultimately, they will protect this space from mold, bacteria and fire.
What can You put on Your Walls Instead of Ceiling Tiles?
If ceiling tiles aren't an option you want to pursue, then there are other methods to cover up your walls inside the bathroom. Some of these ways include:
Painting: This is perhaps the cheapest option available as all you need is a bucket of paint and a paintbrush. As long as you have a day to spare, you should be able to complete this project.

Before relying on this method, note that using paint on your bathroom walls can come with a particular con: it's vulnerable to mold development and peeling after a while. As water vapor comes from the shower and tub, it produces condensation, which can affect the paint on your walls.

Fiberglass: This is likely the most common bathroom wall cover-up material out there today. Since it is water-resistant and relatively cheap, you can use it to install both visually appealing walls and an all-around standing shower.

You can purchase the pre-cut fiberglass material and install the panels quickly by yourself. Also, fiberglass provides the necessary protection from water damage over many years.