If you're looking at a particular space within your home and notice that it's time for remodeling, chances are, the ceiling will look as if it needs revamping. One reliable option you should consider is suspended drop in ceiling tiles. This type of ceiling remains one of the best and most popular ways to spruce up a room.
This article will focus on the advantages of placing a drop-down ceiling inside your home. You will gain a better insight into what they are and what they can do for your home.
What is a Drop Down Ceiling?
A dropped ceiling is a secondary ceiling that's hung below the main structural ceiling. There was a time when they were used to cover up unsightly basement wires and pipes. However, drop in tile ceilings have now evolved and are growing in demand based on how they finish a room. They're no longer just a cover-up option. Today's designs being able to transform any space and enhance the ambiance of it.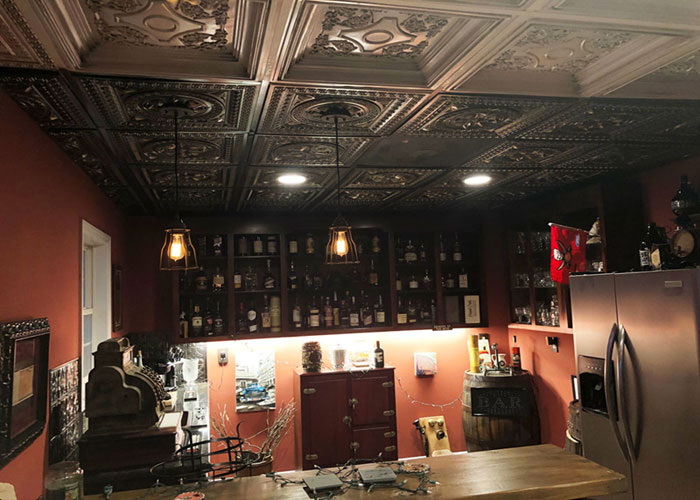 1. A wide variety of design choices
As already established, drop-down ceilings were once bland and mundane and lacked any variety. As time has moved on, drop-down ceilings now offer so much more. They come in so many different styles and colors, so you have plenty of options for choosing the right look for your home.
2. Easy installation
Another aspect of drop-down ceilings is that they are straightforward to install. This is a DIY project that you can complete with just a selection of household tools, and you won't need to take too much time doing it, either. If you're looking to install your drop ceiling any time soon, check here to follow thorough instructions on how to.
3. A high energy efficiency
Drop-down ceilings create an insulating effect, which ultimately decreases your home's heating and cooling bills. Moreover, if you plan on adding white drop-down tiles/panels, you can create a brighter space, reducing the need for a lot of lighting. In the long run, a drop ceiling impacts your monthly bills and helps you save money.
4. Strong, resistant, and safe
Another great feature of drop-down ceilings is that they are resistant to bacteria and mold that can form over a certain amount of time. Fortunately, they will not sag when exposed to large portions of humidity. For this reason, drop-down ceilings are considered an ideal option for bathrooms and any other room where humidity is a concern.
5. Hides pipes, duct work, wires, and more
Camouflaging an ugly ceiling may be a traditional use for a drop-down ceiling, but that doesn't make it any less effective in this sense. Many homeowners still opt for drop-down ceiling tiles because of their ability to hide unsightly duct work, pipes, and wires that appear above. Furthermore, a drop-down ceiling is an ideal solution for hiding any imperfections that may show on the actual ceiling itself.
6. Easy to remove in case of repairs
With a traditional plaster ceiling, the repair work can be tricky and time-consuming – not to mention expensive based on the demolishing work that needs to be done to get to hidden components. When it comes to a drop-down ceiling, there should be no problem with the removal process because the required number of panels/tiles can be removed and reassembled after the repairs are done.
7. They're customizable
By implementing a drop-down ceiling to your home, you can change the entire look of a room quite easily. As long as you plan accordingly, you can give yourself a chance to match the walls and custom floors of your décor scheme. A drop-down ceiling, if planned correctly, can enhance a room whether it has been renovated or not.
8. Soundproofing
If you're looking to keep your home free from external noise pollution, then seriously consider the option of a drop-down ceiling. These ceilings tend to have superior acoustic properties, which ultimately absorb sound so that the inner surrounding of the home is quiet and relaxing.
9. Stylish
As well as functional benefits, a drop-down ceiling gives your home a stylish look, a necessity for many homeowners and decorators. It's a reason why so many of them decide on utilizing a drop-down ceiling. As mentioned, drop-down ceilings are available in various colors and designs and are made of a variety of materials. With this in mind, you can choose any drop-down ceiling tile of your choice and whether it fits into your planned or current decor scheme.
Reasons not to go for Drop Down Ceilings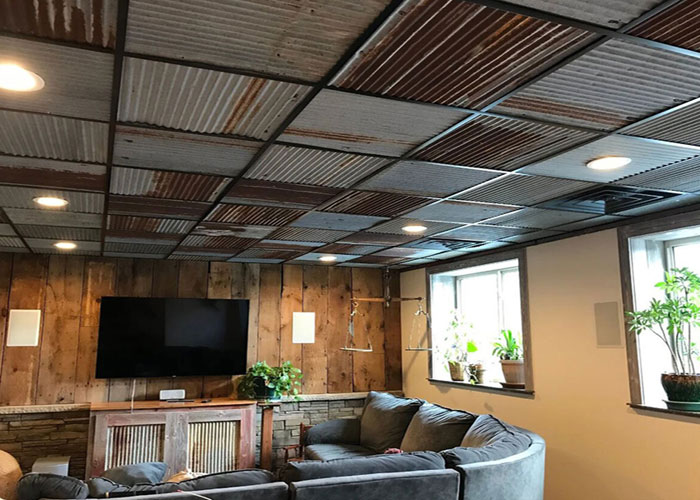 Although drop-down ceilings come with an array of advantages, it is still important to discuss some of the flaws in which they present so that you get a balanced view of what you're considering investing in.
Firstly, one of the downsides to having a drop-down ceiling is that it does deteriorate much faster than other forms of ceilings. Drop-down ceiling tiles tend to suffer when there has been a leak on the roof – as they start to turn brown and the stain is near impossible to eradicate, meaning the tiles will then need replacing.
Lastly, another downside to a drop-down ceiling is that it reduces the height of a room. This feature is clear and obvious as the tiles suspend from the traditional ceiling. You may even notice that your ceiling has dropped by two feet. If this is something you've already prepared for, then this shouldn't even be an issue at all. However, if you cannot afford to lose any height to the room you're considering installing a drop-down ceiling, then there are several great alternatives to this project.