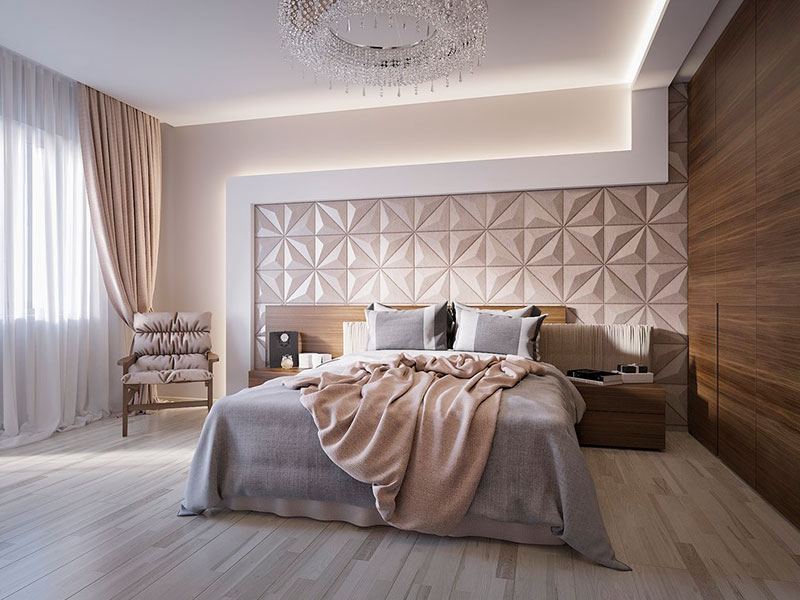 Looking to upgrade your space but don't want the fuss or mess that goes along with a renovation? Incorporating a 3D wall panel is a simple, hassle-free solution to add interest to a room.
There are multiple ways to create eye-catching walls for any space in your home. In the 1970s, we saw an abundance of wood paneling or the occasional paisley design used for an accent wall. Today, walls no longer need to have that flat appearance. Homeowners can add a visual dimension to any room by installing a 3D wall panel.
These wall panels transform any space. They are decorative and textured, extremely versatile, and have a low impact on the walls. Owners can choose to highlight a certain area in the room, create illusions of depth to a space, or even cast shadows that complement the dimensionality of the panels.
What Are 3D Wall Panels?
Decorative 3D wall panels give a room a distinct aesthetic appearance by using repetitive shapes or textures. Panels come in ripples or waves, abstract geometric patterns, or cubes. When owners add illumination, they reveal the full dimensionality by casting shadows.
Panels can be placed in a specific sequence across a stretch of wall to create a geometric scape. You can also highlight a focal area like an entertainment area or fireplace by just paneling a section of the wall.
The panels use composite material and bamboo and have three layers: the firming decorative layer, the relief layer, and the basis. The basis layer contains aluminum, reinforced plaster, or other strong, lightweight material.
Tile Pattern
These 4x8 wall panels are the most common. They are versatile, inexpensive, and lightweight. They can easily be removed from a wall and replaced if needed. You can use them to generate an almost infinite number of patterns that will allow for the greatest artistic freedom. Subway tile wall panels are in 4x8 size are becoming very popular for their light weight and ease of installation.
Tiles can be flipped around, interchanged, and swapped with additional patterns to create a unique wall design. Installing them involves attaching them to wall bracings by using a groove system. You then attach the bracing to the wall using capping or adhesive which means you can move the tiles freely.
Typeset Rack
This type of wall panel comes in long panels attached with staples or screws to a rack structure for a specific shape and size. Installing the panels takes one to two people and is easy since the panels line up snuggly into a groove system. They are attached to the rack on their ends.
Sheet
Sheet panels are wood, PVC, plastic, metal, particleboard, or other material types. Some will have a three-dimensional abstract geometric pattern, with others having the appearance of brick or stone.
For this paneling, the top layer displays the design. They are cut to the full size of your plain wall and attached using adhesive. The edges of the panels are concealed under the wall's molding.
What Are the Benefits of Using These Panels?
The benefits are that they are easier to install than drywall, wallpaper, or simply painting the room. If you are looking for an upgrade or to do something different, this option will allow you to add dimension to the space. They pop out with dimension when applied to any wall.
Furthermore, if the paneling is damaged, you can easily replace it by hand. These decorative panels are also great for thermal insulation and sound dampening. They are maintenance-free and you can clean them using a damp cloth.
Wall Panel Ideas
Homeowners can use these wall panels in any room of the house. It makes each area distinctive and unique with very little effort.
Use a bamboo tile for recessed areas. By using a repetitive geometric pattern, you can transform a room with a recessed wall, adding further dimension. Add borders to the area and paint them a contrasting color for an added pop. This idea works well for living rooms and nooks where you want to create a feature wall.

Bring sophistication to an office with Juliet faux leather. This type of tile adds sophistication by incorporating a studded leather appearance. It provides a look of diligence, success, and organization to any office.
Add geometric shapes to a music room. Find a type of pattern with random protruding shapes. It adds a whimsical, musical feel to the room and blocks out sound as well. Seamless glue-up panels are great for this design.
Lake a splash by your stairs with LumiSplash. This graphic panel adds dimension when placed against a staircase wall. Panels are large and contain a two-dimensional graphic that adheres to the wall. The reflection of this image provides a three-dimensional look, providing a wonderful illusion.
Create the look of a headboard without installing one. Three-dimensional wall panels are great at obtaining the look of a tufted headboard on a section of a wall without all the fuss, mess, or wasted space of a real headboard.

Give the boardroom a contemporary appearance. For boardrooms with long walls and long tables, you can add smaller sections of wall panels to make the room appear more welcoming and less grandiose. Take a section of the wall, and add a faux brick wall paneling to it.

Incorporate a thick wooden border to add dimension and add small pot lights for a more contemporary look.

Use the paneling to break up or define an open concept area. You can add paneling to a wall section in an open concept area to define the area without disrupting the flow of the space.
The best part about a 3D wall panel is that you can be as creative or as whimsical as you want with this design. You aren't confined to placing the paneling on one wall, but you can add it to other sections as well. It creates personality and depth to a room, adding additional interest visually. It can finish a room or upgrade it with minimal effort and installation.