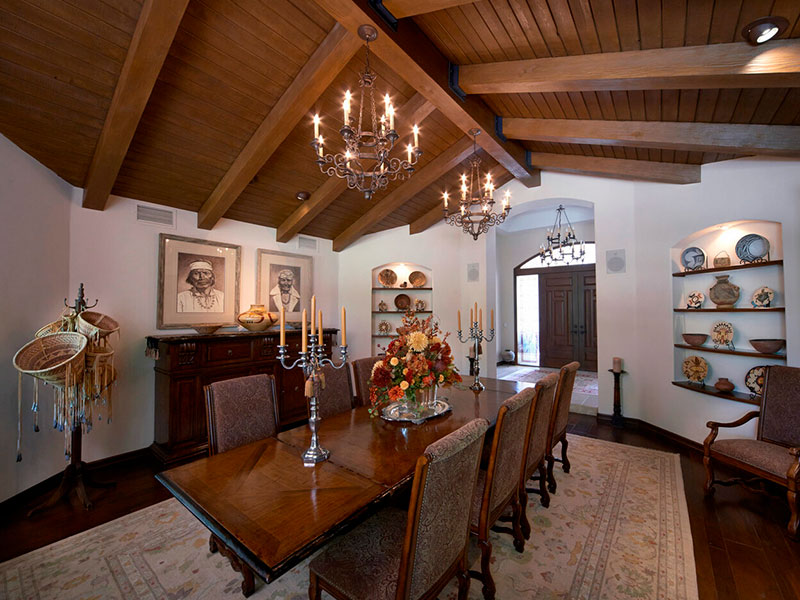 Are you looking for creative ways to transform your walls and ceilings? Here are three types of faux wood planks you should consider.
When accentuating a wall or ceiling, faux wood planks are an ideal choice for their ease of installation, versatility, affordability, and the decorative nature of the wood-like imitation.
Whether installing faux wood planks indoors or outdoors or even in a residential or commercial setting, there are three types you can consider. You may choose to go with polyurethane, styrofoam, or PVC faux wood planks.
Characteristics and Advantages of Faux Wood Planks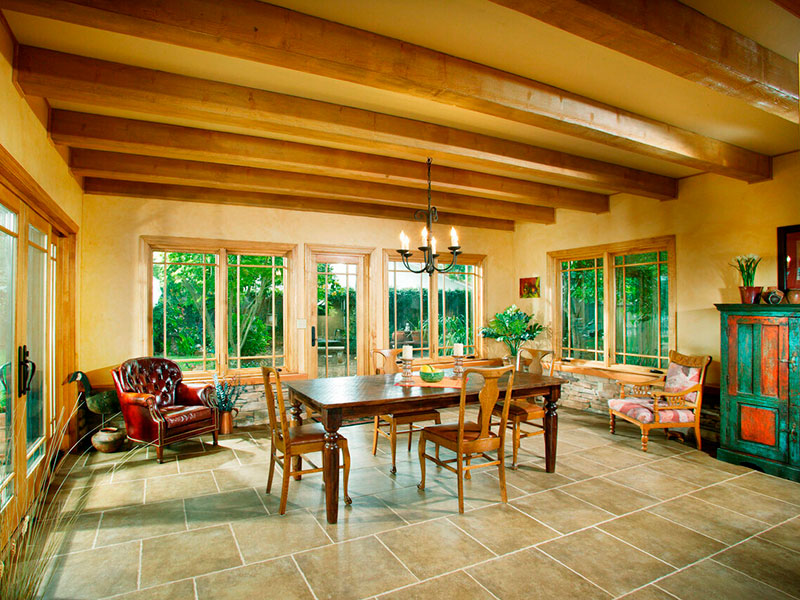 Faux wooden planks have the following characteristics and advantages:
They lack structural integrity and are thus used primarily as decorative material, such as on an accent wall, rather than for structural support.
They are eco-friendly in that using them means cutting fewer trees. They are also recyclable and reusable.
They provide the desired wood-like effect or look in homes and commercial spaces, with knots and grain for a natural-looking finish.
They are easy to install, requiring simple installation accessories and no special tools or professional knowledge.
They are lightweight (due to hollowness), making installation by two people easy, unlike when heavy, real wood planks are used.
Their hollowness makes them ideal for hiding intrusive things like pipes, poles, and cables that clash with home decor or the general appearance of a room.
They are more economical as they are cheaper to install and maintain.
They require little to no maintenance, unlike natural wood planks that require regular cleaning, repainting, annual sealing, and re-staining to maintain their natural wood look.
They are versatile in application in that they can be used indoors, outdoors, and in commercial or residential places. (Here are some places to install faux wood planks on ceilings at home.)
They are available in different textures, colors, and finishes to provide various options depending on the buyer's preferences.
They are available in different sizes in length and width. For example, our faux wood planks vary in length between 4 and 27 feet. The width varies between 4 and 30 inches per plank.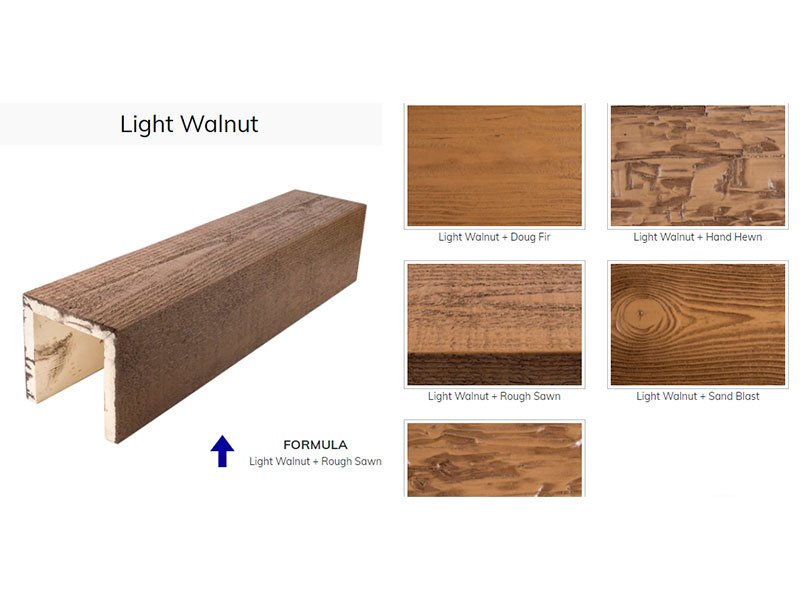 3 Types of Faux Wood Planks for Accentuating Walls and Ceilings
As mentioned earlier, faux wood planks are available in different types, depending on the material used. The three types discussed here are prevalent in the construction industry.
Polyurethane Faux Wood Planks
Invented by Dr. Otto Bayer in the 1930s, polyurethanes have developed into many forms and are now used in many areas such as building insulation, appliance insulation, coatings, furniture cushions, mattresses, sportswear, and even composite wood products like planks and panels.
Polyurethane is a high-density material that proves useful in all weather conditions, making it ideal for making wood planks for ceiling and wall decorations.
Polyurethane faux wood planks come with the following characteristics and benefits:
They are all-weather proof.
They are termite resistant and aren't infested by wood-destroying insects such as powder post beetles, carpenter ants, wood-boring beetles, and carpenter bees.
They are fade-resistant.
They are moisture-resistant, making them ideal for walls in wet areas like kitchens, bathrooms, and laundry rooms.
Some wood plank designs are fire-rated for extra safety.
They can be used in exterior or interior applications.
They are ideal for both residential and commercial installations.
Styrofoam Faux Wood Planks
Decorative foam ceiling planks made of styrofoam or polystyrene are another excellent option for turning often overlooked ceilings into the focal point of a room.
Styrofoam, which is usually written in all caps, is a registered trademark referring to the branded building material products of The Dow Chemical Company. The name has become commonplace and is now used for nearly everything made out of polystyrene.
Polystyrene is a plastic usually used to make electronics, toys, appliances, automobile parts, and gardening equipment.
Styrofoam faux wood planks have the following characteristics and advantages:
They are applicable over various flat solid surfaces like concrete, drywall, and plywood. They can also be installed over popcorn ceilings (without scraping the ceiling first).
Panels are easy to install.
They are lightweight - lighter than PVC wood planks
They are easy to clean and require virtually no maintenance. You can clean them with a mild, non-abrasive soapy solution.
Much more affordable than real wood planks.
Easy to cut.
They are moisture/waterproof and mold-resistant.
You can install them indoors or outdoors in residential or commercial spaces.
PVC Faux Wood Planks
PVC stands for "Polyvinyl Chloride", a chemically non-reactive thermoplastic polymer consisting of chlorine in more than half of its weight content. Also referred to widely as vinyl, PVC is produced by polymerizing vinyl chloride monomers.
PVC has developed into a universal polymer, becoming the third most used polymer globally. Its uses span various applications in healthcare, construction, plumbing, packaging, clothing and apparel, and even faux wood plank products.
PVC faux wood planks for walls and ceilings have advantages and characteristics such as:
Water resistance, making them ideal for use in wet rooms like kitchens and laundry rooms.
Ease of installation by one or two persons with no special tools required.
High durability levels without bending or warping, as is typical in real wood.
They are cheaper than real wood.
Ease of cleaning and maintenance.
Eco-friendliness due to recyclability and reusability.
Ease of cutting and trimming.
Some are fire-resistant.
Available Textures and Finishes for Faux Wood Planks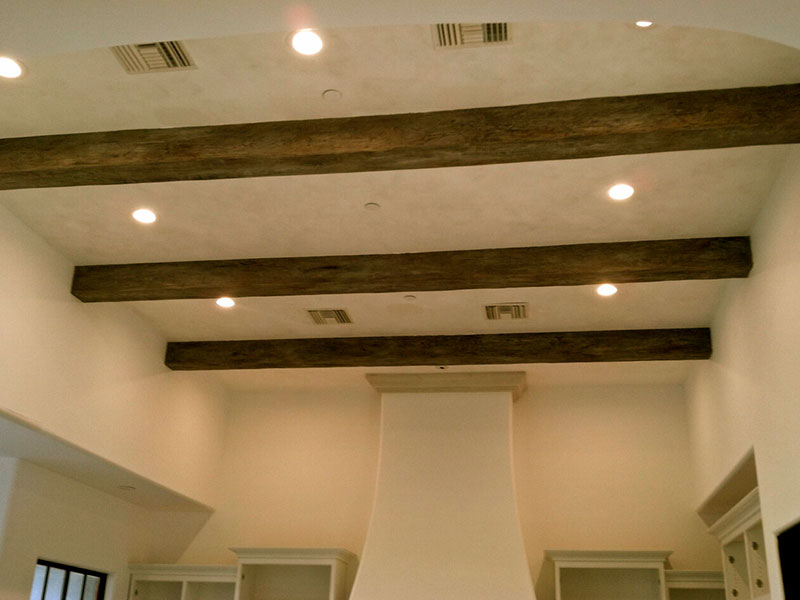 Depending on the manufacturer, faux wood planks come in various finishes like primed and pre-finished stain. The textures and colors also differ.
Our High-Density Foam (HDF) Volterra brand faux wood planks are available in textures such as Hand Sewn, Tuscany, Rough Sawn, Doug Fir, and Sand Blast. The finishes/colors available for the same include Driftwood, Gray, Smooth, Mahogany, Dark Walnut, Light Walnut, Primed, Espresso, and Oak, so you can add the warmth and grain of natural wood.
Depending on your preference, you can order the ceiling and wall planks in different texture-color/finish combinations by combining each finish with any of the five textures to achieve setups such as:
Mahogany - Mahogany & Handsewn/Doug fir/Sandblast/Tuscany/Rough sawn
Light Walnut - Light Walnut & Handsewn/Doug fir/Sandblast/Tuscany/Rough sawn
Driftwood - Driftwood & Handsewn/Doug fir/Sandblast/Tuscany/Rough sawn
Espresso - Espresso & Handsewn/Doug fir/Sandblast/Tuscany/Rough sawn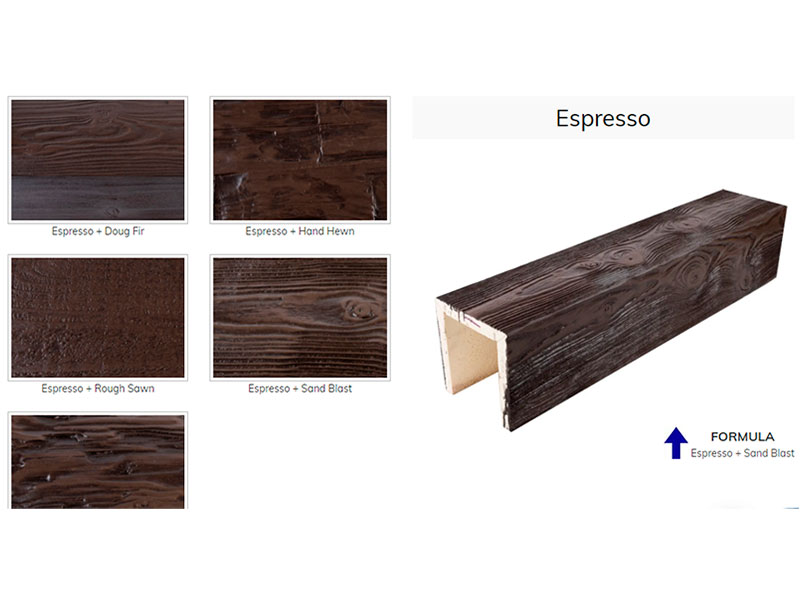 The Volterra faux wooden planks are made of high-density foam. You can also opt for the fire-rated planks if you plan to install them indoors.
The planks are affordable, easy to install, and virtually maintenance-free. You can use them for exterior or interior applications.